Do You Really Need a Box Spring?
by | Last Updated
I think you'll agree with this statement:
A mattress is only as good as the foundation underneath it.
And with that in mind, it makes sense to ask the question:
"Do you need a box spring to support your mattress or not?"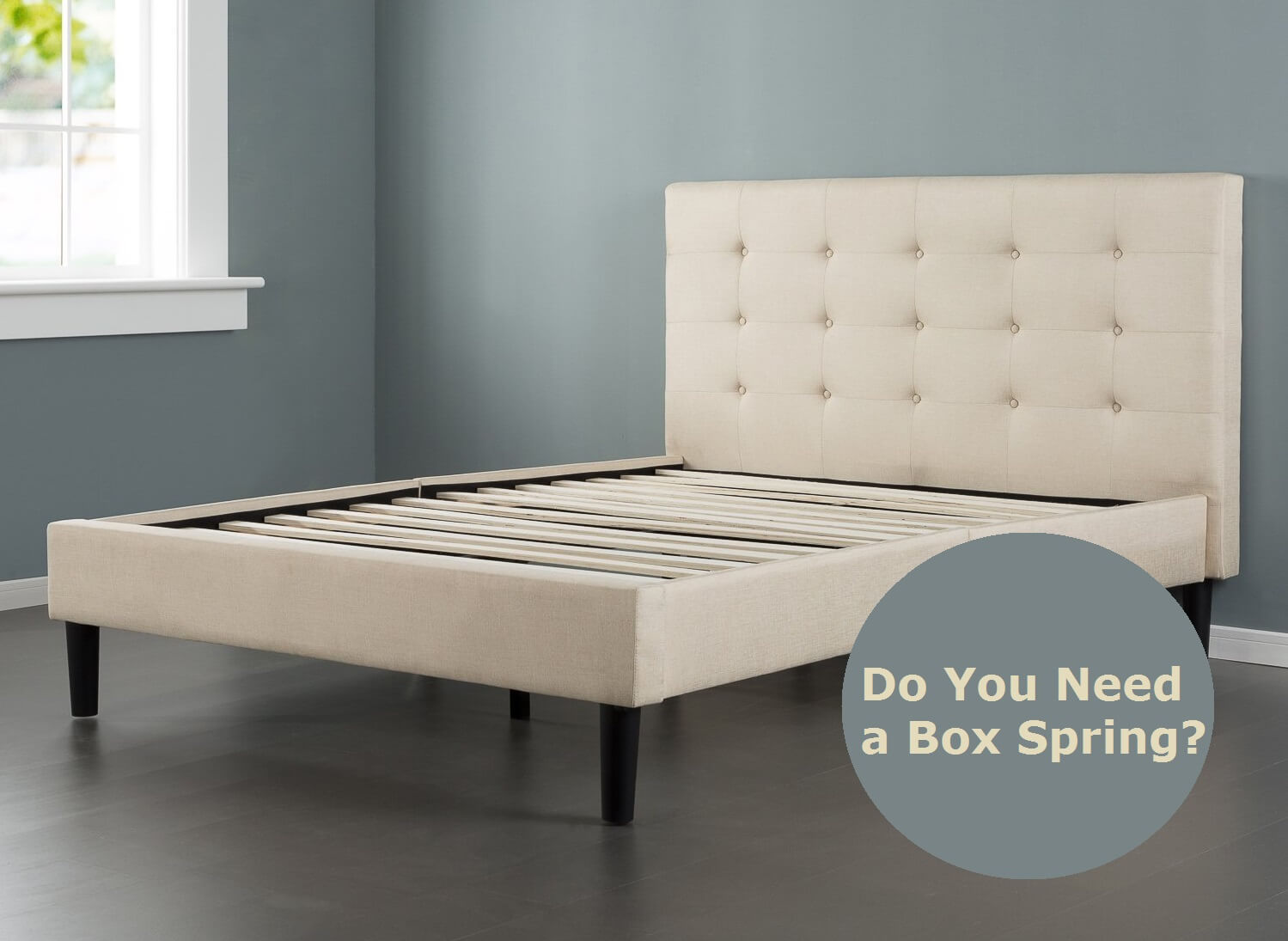 Do You Need a Box Spring?
Well, the thing is that a box spring is a great option that adds firmness and efficient weight distribution to your bed. However, it isn't the correct choice for everyone. Especially given the fact that not all of you actually know the answer to the question, "what does a box spring do?". So, it's time to find it out now.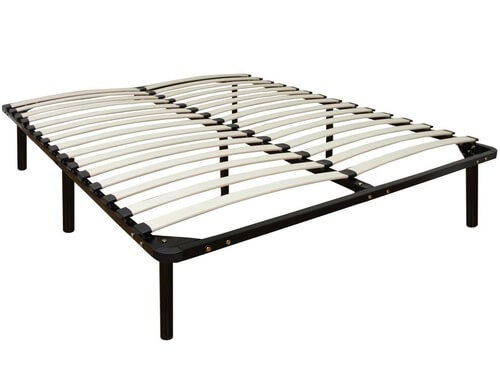 Before you can decide on whether a box spring is something you need, let's first talk about its construction and purpose.
As you can guess from the name, a box spring is a rectangle-shaped box that is filled with metal springs or coils. The frame of this type of foundation is made of wood or steel and designed to sustain the weight of the mattress. The box itself is covered with cotton or a different kind of fabric to add a more appealing look to it and protect it from any spills or moist.
Want to know the best part?
The springs are the most important component of the construction, as they adjust the shape of the box according to how your body is positioned on the mattress.
"A bed is a combined result of using a box spring and a mattress. Some people don't even use a frame, and just place the box spring and the mattress on top of casters located on the floor."
Now:
It's time to take a look at the purpose of box spring, and the benefits that this type of bed foundation offers:
The primary function of a box spring is to add

firmness

to the mattress and make it more comfortable to rest on.

A box spring allows elevating your bed higher above the ground. And nobody likes to get up from a bed that's too low, right?

Despite being filled with coils, this foundation type presents a flat,

sturdy surface

that provides

sufficient support

for the mattress.

A high-quality box spring prolongs the life of your mattress. The way the springs are constructed, they absorb the impact from your weight and rough movements and will protect the mattress from forming hollows.
This type of foundation is great for taking the stress off your joints. The coils inside the box allow you to distribute your body weight on the mattress correctly.
So, Do You Really Need a Box Spring?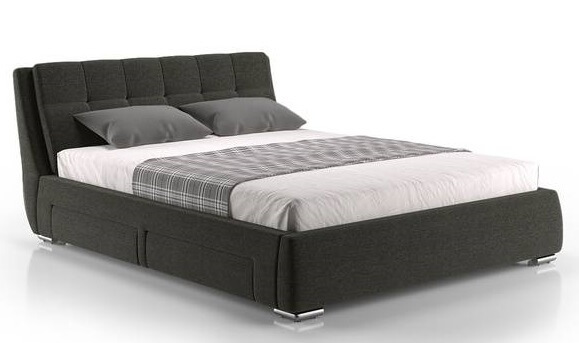 If you were to turn your glance to the near past, you'd find that a decade ago people were buying box springs without ever thinking twice.
Why?
Because back then humans didn't have that many options to choose from, and a box spring was the best way to compensate for how thin and unsupportive the old mattresses were. Thus, people used box springs as a means to get the comfort their bodies needed.
But here's the kicker:
With the speed that the mattress industry has been developing, a box spring isn't the necessity it used to be. Nowadays, a lot of people prefer to buy slatted bed bases or platforms instead. Does that mean that there's no point in buying a box spring anymore? Not at all, this type of foundation is still an excellent choice in several cases.
Thus, the answer to the question "Do I need a box spring?" is "Yes, if you find something of the following to be true":
You

suffer from back pain

and feel that your current mattress doesn't offer enough support for your back and joints.

You require a bed with great

impact absorption

, especially if you have little kids that tend to jump on it.

You want a taller bed because your mattress is

too thin

or the frame legs are too short.
"A box spring provides sufficient support that protects the mattress from sagging."
Now let's talk about people who don't necessarily need to buy a box spring:
If you already have either a

slatted foundation

, it's not recommended to have two types of mattress support, as one gets in the way of the other.

If you like beds that are on the softer side, then you don't need the

firmness

provided by a box spring.

If you're a light

sleeper

, then you should probably avoid purchasing this type of foundation. After long periods of use it makes

slightly annoying noises

, due to the coils wearing out and rubbing against box frame.

If your mattress is

pretty high

, adding a box spring may turn out to be too much. After all, you don't want to literally climb onto your bed, do you?
Even though a box spring is quite sturdy, it doesn't compare to slatted foundation and platform beds in this aspect. It's not recommended to use an old box spring for mattresses that are made of natural latex or memory foam since they demand a solid, rigid foundation to maintain their properties.
Other Things to Consider Before Buying a Box Spring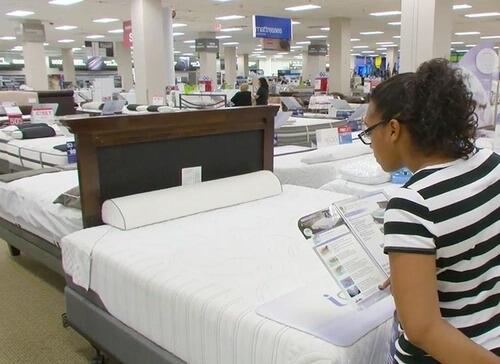 Still don't know the answer to the "Do you need a box spring?" question? No worries, here are some additional facts that may make it easier for you to decide.
If you're leaning towards purchasing a box spring either for yourself or your kids, you'll be happy to learn that there's a wide range of sizes available, including bunk, twin, queen, and king.
The most popular models of this type of foundations are nine inches high. When paired with a thick mattress, such a foundation can make your bed too tall and therefore uncomfortable. However, you can also find box springs that are only five or six inches in height. Such low-profile models are created to cater to people who have a tall mattress but still want to buy a box spring.
What else?
You should also be warned of the dangers involved in buying a cheap box spring. In order to increase their profits and minimize production costs, some manufacturers produce wooden or metal foundations without springs inside but still market them as box springs.
It gets even worse:
Some companies that actually do use metal springs and coils, make them of such poor quality that they don't give in nearly as much as they should. As a result, all you're left with is a taller bed with no additional benefits.
The safest way to avoid such unpleasant incidents is to purchase your box spring either from a trusted brand or from a manufacturer that has a return policy.
If you've decided to buy a box spring, be sure to pair it with a bed base that is a hollow frame and doesn't include slates, as otherwise, you'll have a "conflict of interest" inside your bed.
Also read: Best low profile Box Spring [Queen & King] – Reviews and Buyer's Guide
Important to Know: Mattress Warranty Concerns
Although most mattress brands make their products compatible with all types of bed foundations, the use of a box spring remains a gold standard for some.
And the reason is simple:
A box spring offers a hard and uniform surface.
Since many mattress brands require you to use a flat and even surface, they might force you to buy a box spring to ensure that you properly use your mattress. And this requirement is often written down in the warranty agreement.
And here we come to the trickiest part:
If you don't buy a box spring, you'll lose your warranty coverage. Just like that.
However, as you already know, the box spring isn't mandatory for all types of mattresses. It works well only with beds that have coils, i.e. hybrids and innerspring. Foam and latex mattresses may feel too firm and bouncy if you place them on this type of foundation. So, using or not using one is completely up to you.
Just keep in mind the risks and read the warranty conditions carefully.
"Many of the mattress brands tend to use the terms 'box spring' and 'bed foundation' interchangeably, which is pretty confusing for their potential customers. Remember, the original box spring has coils inside, whereas other types of foundations come with metal or wooden slats."
Conclusion
A box spring isn't going to make everyone happy. But if you're looking for a foundation that will make your bed taller and firmer, then it's definitely worth considering such an option. Additionally, a box spring makes the mattress bouncier, prolongs its life, and gives you additional support for a good night's sleep.
What's the bottom line?
If you want to reap the benefits of buying a box spring but are afraid that it might be too firm or high for your taste, I suggest you buy a model that comes with a return policy from a trusted company. This way, you can know for sure whether a box spring is something you need.
Product links on Happysleepyhead are referral. We get a commission on purchases made through our links at no additional cost to you. More information in my disclosures.