Why Are Mattresses So Expensive
by | Last Updated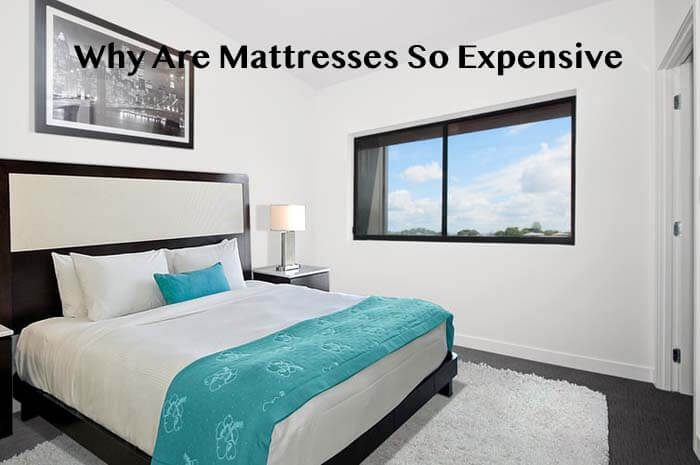 A mattress is often the most expensive item in a bedroom. Considering the fact that you usually replace it once in a decade, the difference between prices can cause extreme frustration.
But why are mattresses so expensive?
Well, three main ingredients making up the price are materials, manufacturing, and marketing.
I'll break these three M's for you right down below and will give you some useful tips on how to save some bucks when making your next purchase.
Why Mattresses Are So Expensive: A Closer Look at Materials
Today, most US mattresses are made using springs, latex, or various foams. By varying the combination of these materials, we get foam, innerspring, latex, and hybrid mattresses.
Obviously, products made of materials with higher quality will cost more because:
they take more time and resources to make;

they typically go through a more thorough selection process;

you will pay for certification and brand's history on the market.
Also, the quality of the materials directly impacts the lifespan and durability of the mattress. So, if you want a mattress that will offer you support and pressure relief for a longer time, you may have to pay more.
"The construction of a mattress and the number of layers also affect the price tag. Thicker foam and hybrid beds typically are more expensive compared to innersprings, as the latter usually have only 1-2 comfort layers over the base."
Don't Forget About the Manufacturing Process
Along with the materials and construction, the manufacturing process also plays a role in the final price.
Latex
Latex mattresses are usually among the priciest. And that's not only because they use the sap of rubber trees, which means they are natural. That's also because to make a latex mattress, the manufacturer needs to go through dozens of steps that are pretty resourceful, no matter if it's Talalay or Dunlop latex. Top it with the fact that most brands that make latex beds follow the eco-conscious philosophy and try to implement good working conditions at their facilities, and you will get quite a high price.
Hybrid
Hybrid mattresses are considered the most innovative sleeping solution on the mattress market, which is why one of their main drawbacks is inconsistency in prices. If you take two hybrids with very similar construction, one of them may be a perfect fit for your budget, while the other might seem overpriced.
That's because, again, producing all these new foams and ergonomic spring systems requires a lot of resources and testing.
"Hybrid beds typically have a bulkier construction with many layers, which also adds up to the final price."
Foam
Foam mattresses are more flexible when it comes to price. You can get a cheap mattress offering great value for money or end up having the most disappointing sleep experience in your life.
How come?
Well, all types of foams are well-researched today and typically require the same ingredients to make. Thus, the price and the quality of a foam mattress will depend on the following:
the quality of the chemicals used to produce foam;

the stages involved in the manufacturing process;

how harmless the final product is.
Innerspring
And, finally, innerspring beds typically are the cheapest. They offer you a simple construction, which hasn't undergone any changes for decades, and don't require fancy equipment to make.
However, if an innerspring mattress uses pocketed springs as a base or natural materials as comfort layers, then its price is likely to reach the middle segment of the market.
Is Marketing Really a Reason Why Mattresses Are So Expensive?
Yes.
The last thing that impacts the price tag of your mattress is marketing. It includes the following:
Paying rent

.

Mattress stores

generally use large spaces to exhibit their products, and this adds up to the price tag.

Utility bills

. Did you see that appealing light all around the mattresses and beds in the mattress store? Can you imagine how much electricity is required to maintain all this magnificence and how much it will cost?

Salaries

. The shop owner needs to pay money to the salesmen who help you make a decision, administration, cleaning personnel, advertising managers, etc.
How Else Can You Care for Your Futon?
Proper care isn't limited only to regular cleaning. To prolong the lifespan of your futon mattress, you can also do the following:
Rotate your futon regularly

. Rotating your mattress will help prevent indentations and slow down the sagging process.

Put a cover on it

. Futon covers are typically made of thicker and more durable materials than standard bedding. Also, they often are washable, which makes the maintenance of your futon mattress much easier. So, you may want to purchase a couple of covers and switch between them.
How to Save Some Money When Buying a Mattress?
As you can see, the mattress industry is just like any other industry, indeed. Numerous factors influence the final price, from the materials used to the delivery methods available.
However, you can still get some great deals if you're looking for a new bed.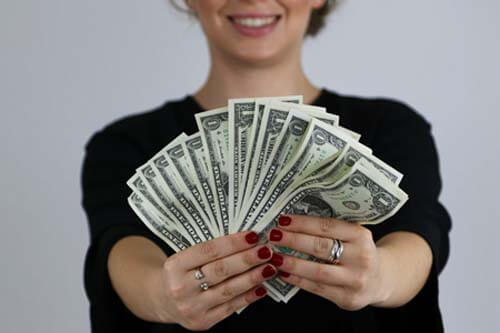 How?
Buy a mattress online!
Really, online shopping is a great thing, and it has many benefits compared to its traditional alternative, such as:
Lower prices

. Online mattress companies often don't have a physical store. They operate a website and a warehouse, and ship items right to your front door. Thus, no spendings on rental and salaries, and hence, cheaper prices. If you're looking for a

great mattress under $1,000

, you are much more likely to find it in the online store.

Better choice

. While physical stores typically have only bestsellers or the latest collection on a display, online shopping will give you a lot more options to choose from. You may even stumble upon a new but discontinued model at a ridiculous price.

Deals and discounts

. Another thing I love about online mattress stores is their discounts. Some companies give their new customers coupons for their first purchase. Also, if you subscribe to the mailing list, you may as well get notifications about big sales, such as Black Friday or the 4th of July sales.

Convenience

. Finally, online stores can be visited at any time of day and night, and you can set out on your shopping journey right from your bedroom. If you've ever purchased anything through such major platforms as Amazon or eBay, you probably know how easy it is to buy all accompanying products at once (e.g. a bedding set or pillows).
And if you're concerned about the inability to touch and try your mattress, don't be:
Most online mattress companies offer you extended trial periods (up to 120 days). So you have enough time to understand whether the bed you've bought is the right fit for you.
Bonus: Some Budget-Friendly and High-Quality Mattress Brands
Finally, I would like to ease your shopping for a new mattress even more and list some inexpensive brands that can suit any budget:
Zinus

: A China-based manufacturer, which, nonetheless, makes its beds following the US standards. The cost of Zinus beds starts at around 100 bucks, and for this money, you'll get a good mattress.

Brooklyn Bedding

: A US-based manufacturer with the average price tag of about $600. Brooklyn Bedding mattresses are quite durable and can give you decent support for a couple of years at the least.

Layla:

If you need some versatility, then Layla might be a great choice for you. This company makes dual-sided mattresses with a different level of firmness on each side.
Also, check out my selection of mattresses under $500. Each model reviewed there offers excellent value and proper support.
Is the price of a mattress a critical factor for you? How much did your last mattress cost you, and do you consider it a worthy investment? Share your thoughts below!