Can You Put an Air Mattress on a Bed Frame?
by | Last Updated
Can you put an air mattress on a bed frame if you want to use it as a regular sleeping place?
This is one of the most common questions we get here at Happysleepyhead.
I get it, airbeds are a great alternative to a traditional mattress. They're lightweight, comfortable and sleep cool (because you literally lie on a layer of air).
Unfortunately, airbeds and bed frames typically don't make a great combo. But if you don't want to use your airbed directly on the floor, here are some great alternative solutions.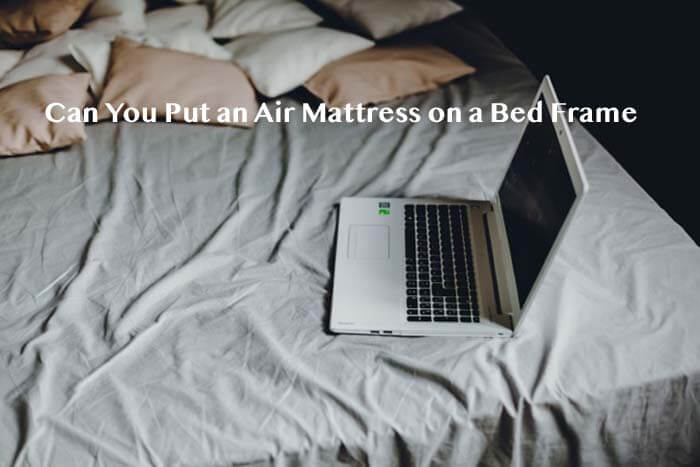 Product Recommendations You Can Try
If you're not willing to spend much time looking for suitable products, you can just go with one of these options. They will both make a great purchase for a guest room or your own bedroom.
Zinus 12 Inch SmartBase Bed Frame
Zinus suits average-weight sleepers and requires no tools for assembly (it will only take you 15-20 minutes to put it together). This option is low-profile, so you can use it with a thicker airbed. But make sure to secure the mattress and the frame to avoid sliding off.
This one is a complete solution, as the deal includes both an air mattress with a pump and a steel cot to support it. It can hold up to 600 lbs weight, which should satisfy most sleepers. A nice bonus is an AirTight system that the pump comes with, which prevents the mattress from deflating during the night.
First, Why Putting an Air Mattress Directly on a Bed Frame Won't Work
To put it briefly, it's because air mattresses are designed to be used on the floor.
Their bottom is typically durable enough to withstand active use even outdoors. Besides, when fully inflated, an airbed feels pretty firm and even, so you don't really need to add any support beneath it.
Another reason why putting an air mattress on a metal bed frame isn't a great idea is your safety.
See, the slats in most bed frames are made of metal or wood, which both have little to no grip. Since an airbed is very lightweight, it might simply slide off the bed frame while you're switching positions during sleep. Besides increasing the risk of injuries, it's also a disrupting factor for your shut-eye.
Finally, many bed frames are designed for traditional memory foam mattresses, and hence, they're simply unable to provide proper support for an airbed. Wide spaces between slats create an uneven surface and may even lead to tears and punctures on the bottom of your air mattress.
So, unless you don't mind patching your air mattress regularly, it's better to leave it on the floor.
Or, use one of the alternatives I've come up with and tested for you.
#1 Pair a Bed Frame with a Piece of Plywood
If you still want to give your bed frame a try, add a plywood sheet on top of it in order to make the surface more uniform.
This solution is great if your bed frame has wooden slats. Metal slats, though, have little grip, which could make the plywood slide off together with your mattress and you peacefully resting on it.
"Note that if you are to choose a new bed frame for your air mattress, go with those that have higher side rails. This will help keep the mattress in place."
Now, here's how you can make this construction safer:
Measure your bed frame.

Your plywood sheet should have the same dimensions as your bed frame. This will prevent accidental stumbling upon sharp corners and will ensure that the plywood stays fixed.

Choose thicker plywood.

Ideally, your plywood sheet should be somewhere between 2 and 4 inches thick. This is more than enough to make a sturdy and uniform surface.

Cover it.

Place a layer of thick fabric or other non-penetrable material on top of the plywood to protect your airbed from splinters.

Check the weight capacity of your foundation.

Plywood sheets — especially if you go for a thicker one — can add a significant amount of weight to your bed. So, when choosing a

bed frame for an air mattress

, look for a weight capacity of 600 lbs and higher to ensure that it will hold the weight.

Put a non-slip tape or padding on your bed frame.

This will not only prevent the plywood from sliding off but will also ensure the quiet construction, which is especially important if you want your

bed frame to be sex-friendly

.
That's it! This construction will work perfectly for almost anyone, including heavy sleepers who want to sleep on an inflatable bed.
Also read: Best Bed Frames For Heavy Person With Anti-Sagging Design
#2 Use a Box Spring
If you don't want to mess with the plywood, you can use a box spring.
Initially, a box spring was designed as a box filled with springs for supporting innerspring beds, as it can enforce their natural bounce. Today, however, this term is also used to refer to a metal or wood foundation that can be placed between a mattress and a bed frame to enhance supportive properties.
From my experience, putting an air mattress on a box spring that is placed directly on the floor can work too.
As most box springs come with a cover, you won't need any fabric to prevent the springs or wood from puncturing your air mattress and to ensure the proper grip.
"To make the construction sturdier, try placing the foundation with an air mattress near the wall, or in the corner. This will prevent it from traveling around the room."
#3 Place a Mattress on a Mattress Topper
A mattress topper can be used not only for supporting your back or rejuvenating your mattress. It can also make a supportive surface for your inflatable bed.
Here's the thing:
Some inflatable models can reach up to 25 inches high. Using such air mattresses with a frame may result in an awkwardly high bed, which is uncomfortable for everyday use.
And that's when mattress toppers come in. They are a great low-profile support option for a thick model.
Now, here are some tips to help you choose a pad that will support your mattress properly:
Sizing.

Know the dimensions of your airbed before you purchase the topper. Eventually, it should be the same size as your mattress or a bit larger on each side for better weight distribution.

Density

. A topper should be able to withstand your weight and the weight of the mattress. Dense foams work great for this, as they're more durable.

Firmness.

Firmer foams are more immune to sagging, so they will stay flat and prevent you from getting a sore back.
"You can wrap a Velcro strap around the topper and the airbed to keep the construction together and prevent the danger of shifting."
#4 Put an Airbed on a Rug
Another DIY air mattress frame alternative is… a rug. It will work for an airbed of any kind, whether it's a high-profile one or not.
A rug can ensure proper grip, so your mattress won't be traveling around the room. Plus, it can be found in most households, so you probably won't have to bother with buying one.
Be sure to vacuum and clean the corner where you are going to put your mattress. This will prevent the fibers buildup, keeping your flooring even, and will remove any debris that could puncture your mattress.
Also read: Best Air Mattresses For Everyday Use in 2020
How to Maintain Your Air Mattress in a Good Condition?
Airbeds have a shorter lifespan compared to traditional mattresses. Most of them will last between 3 and 5 years if used daily.
But using additional support underneath it isn't the only way to prolong its lifespan a bit. Here are a few recommendations on that:
Re-inflate your mattress regularly

. Since mattresses are made of synthetic materials, they have a tendency to stretch as the air inside resists the pressure from your body. To minimize the wear and tear from that stretching, you can deflate and re-inflate your mattress every two to four days. If your mattress doesn't have a built-in pump, you can use an external one or

deflate it manually

.

Use bedding.

Bedding not only will make your mattress feel more comfortable but also will prolong its life by preventing the cover fabric from wearing out.

Clean it.

Even if you use your airbed only indoors, regular cleaning will be beneficial for it, as it removes the dust and possible bacteria, thus eliminating the chance of odors. Use a vacuum for general cleaning and mild soap solution with a soft cloth to remove any stains.
Do you use an airbed as a regular sleeping place? Which of these options do you think can work best for you? Share your thoughts below!