How to Sleep on the Floor Properly
by | Last Updated
Despite the fact that almost everyone in the world has a mattress today, sleeping on the hard floor is still incredibly popular.
Some advocates of this practice even claim that it can help you get younger and healthier.
It may not be that powerful, but there still are some great benefits, so I believe you should try it at least once. And that's why I've come up with a few recommendations on how to sleep on the floor properly so that you can get prepared and make the most of this activity.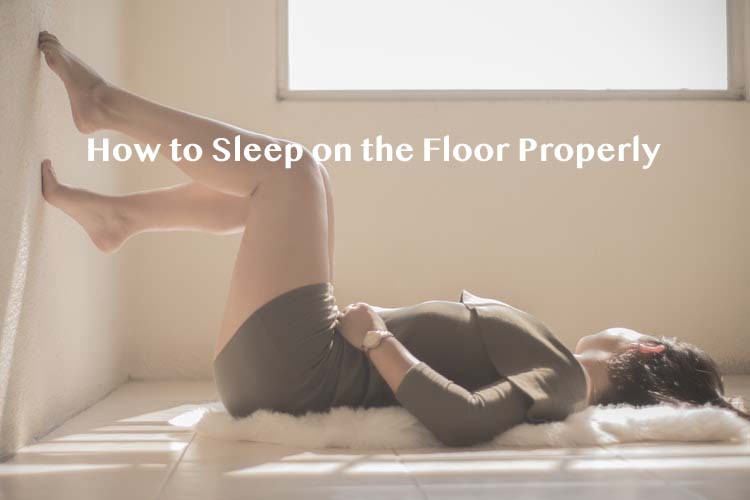 Why You Should Try Sleeping on the Floor
First, let's see why sleeping on the floor is good:
More space.

If you plan to switch to floor sleeping completely, you can dispose of your bulky bed. This means that your bedroom will become more spacious and you will be able to use the new space for your liking.

Cooler sleep.

That's physics. Cool air is denser, so it accumulates closer to the floor. So, if you suffer from hot flashes or are prone to night sweats, sleeping on the floor may help you get a cooler, more restorative sleep.

Improved posture

. Hard floor is the most uniform surface you could ever imagine. Besides allowing you to switch positions more easily compared to a memory foam mattress, the floor aids in keeping your spine properly aligned and can even improve your posture in the long term.
As usual, there are certain contraindications, too. For example, individuals with limited mobility, who may have difficulty getting up or lying down onto their bed without assistance, as well as older people, who are susceptible to cold, are not recommended to sleep on the floor.
Best Positions for Sleeping on the Floor
This may not seem obvious for some people, but the right sleeping position can have a huge impact on your floor sleeping experience. So, let me break down the three main sleeping positions and their compatibility with sleeping on the floor:
Back sleeping

. Those who try

sleeping on the floor for back pain

relief may cheer up. The supine position is the healthiest for maintaining proper spine alignment. So, if your stiffness is caused by a saggy mattress or office work, ditching the bed can be very beneficial for you. However, individuals with chronic aches and pains should consult with their healthcare specialists because sleeping on the floor might aggravate existing spine conditions.

Side sleeping.

Side sleeping on the floor might be comfortable for some, but most people feel the opposite. When you're sleeping on your side, your hips and shoulders go out of alignment, as the floor has no sink or give. Also, the pelvic area can rotate a bit — especially if you're a heavy sleeper — which will worsen the lower back issues.

Stomach sleeping.

Stomach sleeping is, by all means, the

least healthy sleeping position

. It flattens out the natural curve in your lumbar area, leading to lower back pain. And when you sleep on the hard floor, the misalignment in this region gets even more pronounced.
Bottom line?
Choose the supine position over the others. Or, arrange your sleeping spot so that it will be more comfortable for your hips and shoulders and sleep on your side.
How to Sleep on the Floor and Make the Most of It
Finally, let me list a few effective tips you can use to turn sleeping on the floor into a positive experience and regular practice.
Choose the Right Surface for Transition
The first thing you need to do is to actually make sure you can do this. Since not everyone is ready to ditch their mattress right away, you can use one of these items for a smoother transition: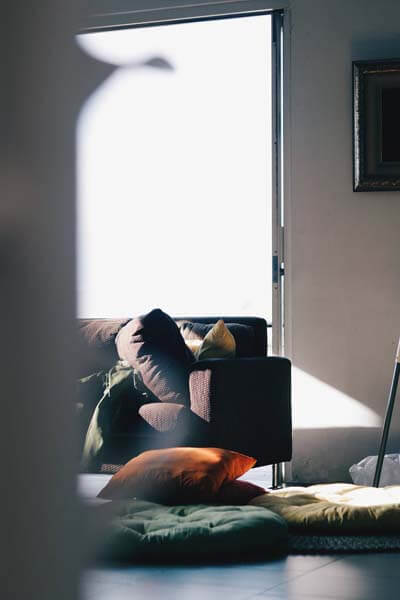 Futon mattress.

Traditional futon mattresses are designed for sleeping on the floor. Typically rollable, they resemble a thick blanket and are comfy enough to suit a side sleeper. You can

check out the best futon mattresses

; I've tested them all myself and can guarantee that they will work great for sleeping on the floor regularly.

Mattress topper.

An average

mattress topper

measures between 2 and 4 inches thick and can elevate you from the hard surface a bit, making your sleep more comfortable. Choose dense foams or natural latex; these materials last longer without losing supportive properties.

Yoga mat + sleeping bag.

This combo may seem a bit weird and more like a guesthouse option, but the important thing is that it works. A yoga mat is incredibly cheap and can absorb shock from the hard floor surface, while a sleeping bag will keep you comfortable throughout the night. Plus, if you choose to use this option on a regular basis, you will gain the ability to fall asleep fast on any camping trip because the bag and the mat will feel like home to you.
In addition, there are great floor mattresses that will make you sleep more comfortable.
Go Gradually
Do not try to force yourself to sleep on the floor for the whole night at once. This might be challenging even if you try really hard.
Instead, you can set the alarm to ring a couple of hours earlier and switch from the bed to the floor. Then, gradually increase the percentage of the night you spend on the floor and see how it works for you.
"You can also sleep on a few mattress toppers stacked up, and gradually remove them one by one as long as you feel comfortable."
Change a Room
Sometimes, the climate in your bedroom isn't suitable for sleeping on the floor. There could be draughts closer to the floor, or the air could be very humid, making you feel uncomfortable.
Try sleeping in the guest or living room to find the most comfortable spot.
Listen to Your Body
Finally, observe how your body reacts to this transition. If your aches and pains reduced and your overall quality of sleep has improved, these are the signs that you're on the right way. Don't force yourself to sleep on the floor if you constantly waking up sore and grumpy. After all, we all have different bodies and needs, so floor sleeping might just not be your thing.
Have you tried sleeping on the floor yet? How did it feel? Share your stories in the comment section!