Best Mattresses Proudly Made in the USA: Reviews and Buyer's Guide
by | Last Updated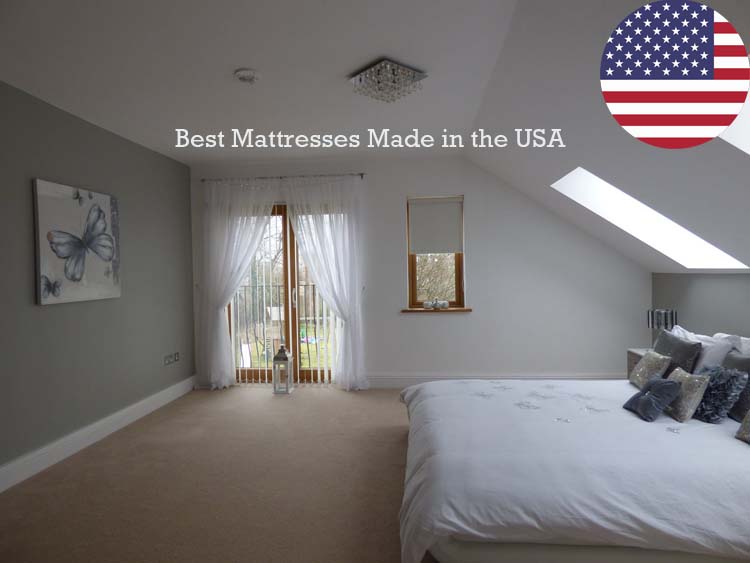 Shopping for a new mattress can easily become overwhelming, I know that like no other.
But what if I tell you that instead of surfing through all assortment on the market you can concentrate on local brands?
This will make your shopping process way faster and much more effective.
Thankfully, I have reviewed 5 best mattresses made in the USA, which all can make a perfect fit for your bedroom.
Come see what they are!
[table id=134 responsive=collapse datatables_row_details=true datatables_row_details_columns="A-G" /]
Our Reviews of 5 Best Mattresses Made in the USA
Best for Double-Sided Design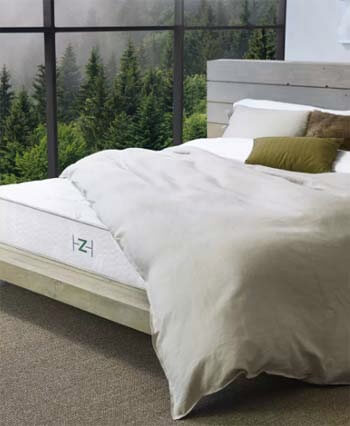 And here comes another eco-friendly model in my review of the best mattresses made in the USA. But what makes the Zenhaven stand out is that it combines two firmness options in one mattress, allowing you to use the one that suits you more.
You can choose either Luxury Plush side (which is great for petite sleepers and those who sleep on their side) or Gentle Firm option (which suits heavier individuals and those who love snoozing on their back or stomach).
The mattress is made of Talalay latex, from top to bottom, which results in a nice bounce and good cradling properties. The softer side has an additional wool layer for enhanced comfort and better temperature regulation.
So, the coolest thing about Zenhaven is its double-sided design, which is rare for latex mattresses. I love that you can easily flip it to satisfy your body needs and get your deserved sound sleep.
The main problem is edge support. It is satisfactory when you're sitting near the edge, but when you lie down there, you might feel like you're going to roll off. So, this bed might not work for those who tend to sleep closer to the edge.
If you need a versatile and natural mattress and don't mind to splurge a bit, then Zenhaved might be your perfect fit. It has two firmness levels in one to support different types of sleepers.
Check out zenhaven mattress on zenhaven.com
Best for Firmness Variety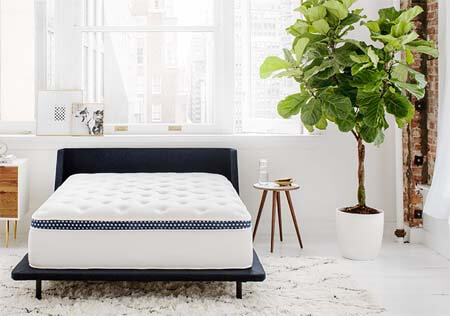 Another contestant in my review of the best beds made in the USA is the Winkbed. Offering four firmness options and smart design of each, the manufacturer shows great care in delivering sound sleep to every user.
Since it's a hybrid bed, you can expect temperature neutrality. The coil block creates great airflow between the layers and dissipates your body heat, thus providing you with a cooler sleep.
Also, there are several construction variations, each tailored to different types of sleepers. Whichever one you choose, you will get excellent support and good conforming. Some layers are zoned for helping you keep proper spine alignment throughout the night, and there's a lumbar pad to relax your lower back area.
The most prominent feature of the Winkbed is the variety of firmness options and how they are suited for different needs. There's even an option specifically designed with heavier sleepers in mind.
The main issue, however, is that the coils might make occasional noises. They're not that loud, but if you're a sensitive sleeper, this might bother you.
Overall, I like the Winkbed mattresses. They are all equally durable and can offer you a perfect balance between support and cradling.
Check out winkbed mattress on winkbeds.com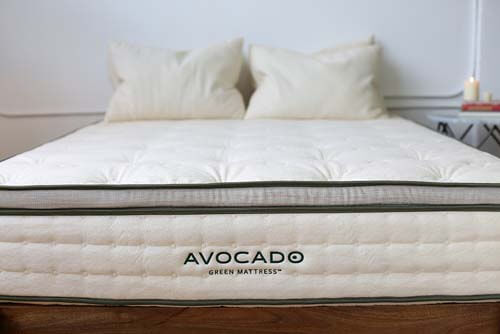 The next option on my list of the best mattresses made in the USA is the Avocado, and it's a holy grail for all eco-enthusiasts. The manufacturer tries to reduce its carbon footprint by using renewable and upcycled materials, such as steel coils.
So, the mattress has hybrid construction. On top of the breathable and supportive coil system, there's a layer of springy Dunlop latex for contouring your body and a layer of natural wool that acts as a temperature regulator, keeping you cool — or warm — throughout the year.
Also, the manufacturer doesn't use any adhesives to hold the mattress layers together. Instead, it uses a good old binding technique and stitches layers together with wool threads. You can see cute rosettes on a mattress surface that prove that.
The main advantage of this mattress is definitely its eco-friendly design. It's not only about caring for the planet but also about making a bed that is suitable for sleepers with allergies or breathing disorders.
The main drawback is, of course, the price. The Avocado is in the expensive segment of the market, so, if you have a tight budget, you should probably look into other options.
I really enjoyed testing the Avocado. It's a perfect choice for those who want to go green and are ready to pay more for that. Just make sure you don't mind the bounce typical of latex.
Check out avocado mattress on avocadogreenmattress.com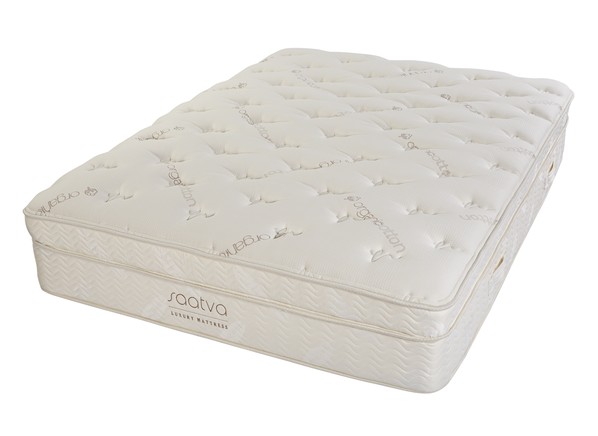 So, the first brand to be featured among the top-rated mattresses made in the USA is Saatva. It's a luxurious innerspring model, so you can expect outstanding durability, anti-sagging design, and great support, even closer to the edges.
The main feature of this mattress is coil-on-coil construction. A layer of 4-inch pocketed coils sits atop a 7-inch steel spring block. Both layers complement each other, and, as a result, you get a mattress that can easily support larger loads and may be suitable for heavy single sleepers and even couples.
Also, I loved how the lumbar pad delivers targeted relief to your lower back area, whether you feel stiff after sitting in your office chair or due to some medical conditions.
The best thing about this mattress is that it provides uniform support. The combination of coil layers and reinforced perimeter allows you to easily utilize the whole mattress surface and feel comfortable even when sleeping near the edge. Perfect for sleeping with a partner.
What I didn't like, though, is that this mattress might be overly responsive to movements. It's a common issue with innerspring beds, and if you have a restless sleeper by your side, this can be pretty annoying.
Overall, if you're looking for a mattress that will offer you uniform support across the surface, feel free to choose the Saatva. It's a great pick for anyone who shares a bed with a partner or tends to roll over to the edge.
Check out saatva mattress on saatvamattress.com
Best for Quick Relief and Recovery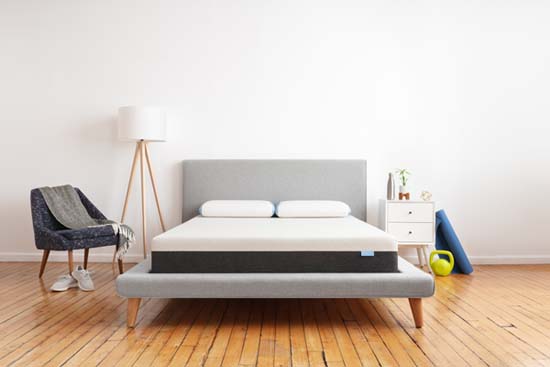 And one more candidate on my list of top-rated beds made in the USA is the Bear. Its all-foam construction can be great for those who are looking for more pressure relief and better hug for their bodies, typical of memory foam mattresses.
So, the manufacturer did a really good job of combining materials. First, you have a breathable Celliant cover that wicks away moisture. Right under it, a layer of soft memory foam infused with graphite particles waits to contour your body as soon as you lie down on the mattress.
The Bear can offer excellent pressure relief and decent sinkage without making you sleep hot. Also, I was very impressed by the motion isolation of this mattress. It absorbs any movements very effectively, so if your partner is a restless sleeper, this won't be your problem anymore.
The thing I liked the most about this bed is how it gives you relief and helps you recover faster. I was testing the Bear with a sore back, and it was the best sleep in my life, literally.
What I didn't like, though, was the foam odor. It's a common issue for all foams, especially infused ones, and the Bear is no exception. Even though the smell isn't harsh, sleepers with a sensitive nose might still feel it.
Despite some minor inconveniences, the Bear is a great mattress for those who need pain and pressure relief. It comes with that typical memory foam feel but is a more eco-friendly option.
Check out bear mattress on bearmattress.com
Where to Buy a Mattress in the USA?
When it comes to finding a good mattress made in the USA, you have two options available:
Online or offline shopping.
(Disclosure: I'm an advocate of the former)
But let's break down each of them down below.
Online Shopping
Many USA-made mattress brands allow you to buy their products online.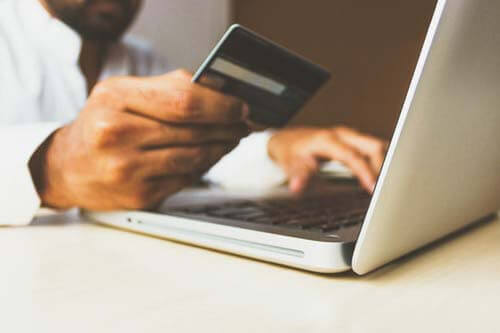 It's really easy:
You choose the model you like, add some accessories if you need any, choose the delivery time, and then the staff arrives with your new mattress. In some cases, they may help you install the mattress and even dispose of your old one.
Aside from the uplifting experience, online shopping for a mattress has other advantages:
It's cheaper.

Since online stores don't have a ton of staff and sometimes only have a website and a warehouse, they can save you a couple of hundreds on a new bed.

Online stores are open 24/7.

So, you can easily 'visit' them whenever you have the time instead of spending your whole day-off driving around the city.

Multiple deals and sales are available.

You can get your mattress for even less if you catch the sale time or get a promo code (hint: you can get a promo code simply by subscribing to a brand's newsletter).
Offline Shopping
Offline shopping has one significant advantage over online stores:
You can try a mattress before you buy it.
But is it really an advantage?
I mean, within one day, dozens of people lie on the mattresses displayed at the showroom. For months. This can significantly alter the feel, so you may get a distorted impression of the model you're planning to buy.
So, maybe it's better to use a trial period offered by most online brands selling mattresses in a box?
"Don't forget that there's also a break-in period when your body adjusts to a new bed. Typically, this period takes about 30 days, so if you aren't in love with your mattress yet, you may want to wait a bit longer. Besides, some companies don't allow the customers to file a return until those 30 days since the purchase have passed."
What Mattress Type Do You Need?
Since American brands today offer literally all types of mattresses,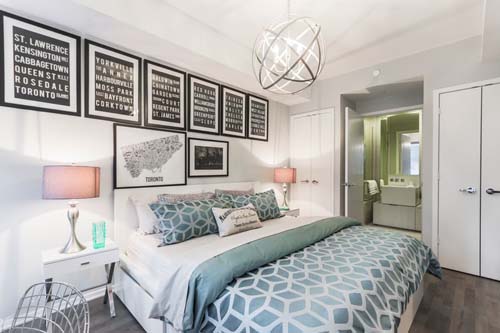 it's useful to know what types there actually are and what's the difference between them.
Things to Consider Before Purchase
Finally, I'd like to share a quick checklist with a few key things you need to consider if you not only want to buy a quality mattress from a US-based company but also want this mattress to be perfect for you personally.
Your sleeping position.

The way you sleep defines the firmness that will work best for you. Side sleepers typically need something softer to cradle their hips and shoulders, whereas stomach sleepers would feel better on a firm mattress that will help them eliminate the drawbacks of their sleep position. At the same time, medium and medium-firm mattresses are often considered universally comfortable for all types of sleepers, although back and mixed sleepers will benefit from this firmness level the most.

Your weight.

As with your sleeping style, your weight determines the needed firmness too. If you need a mattress for a heavy sleeper, choose firmer models, as they won't make you sink in too deep and will offer better pressure relief. Petite sleepers, on the other hand, will benefit from softer beds, as these will give in more deeply under their body, offering just the right amount of cradling.

Your health condition.

You need to carefully choose your mattress if you have any musculoskeletal conditions causing pain or mobility concerns. For example, for the latter, a firmer mattress may help you move around the bed and switch positions without effort. A softer bed, on the other hand, is better for cradling stiff back and relieve pressure in the muscles.
Conclusion
The modern US mattress market can offer you a lot of decent brands to choose from. You can easily find a bed of any type and construction that will suit your sleeping preferences.
The five I've reviewed above are among the most popular and best performing options available today.
My personal favorite among them is the Zenhaven. Despite being a bit pricey, this mattress offers you dual firmness and is completely natural. It will offer you a truly cool and blissful sleep.
In case you're not a fan of latex, the Winkbed is a great alternative. You get to choose your preferred firmness from 4 options, and each of them can support your spine alignment in your favorite position without making you sleep hot.
So, why do you prefer American mattresses rather than imported options? What are the main factors you consider when choosing a brand? Share your thoughts below!
Product links on Happysleepyhead are referral. We get a commission on purchases made through our links at no additional cost to you. More information in my disclosures.