The 7 Best Bamboo Mattresses and their reviews: Safety and Comfort in One Packaging
by | Last Updated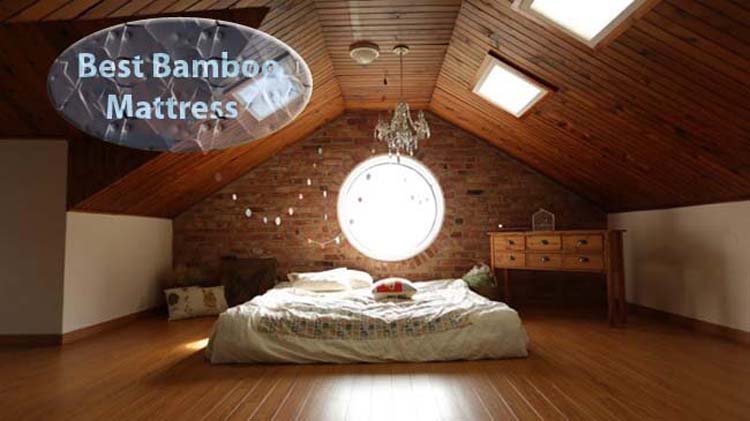 A good mattress equals a good sleep.
Don't you agree?
And it only gets better when a mattress features natural, breathable components.
That's why today, we are going to look at 7 best bamboo mattresses, which offer both comfort and great components. Let's see which one has the potential to become your favorite bedroom item!
[table id=73 responsive=collapse datatables_row_details=true datatables_row_details_columns="A-G" /]
High-Quality Bamboo Charcoal and Gel Infused Mattress
BedStory Gel Memory Foam Mattress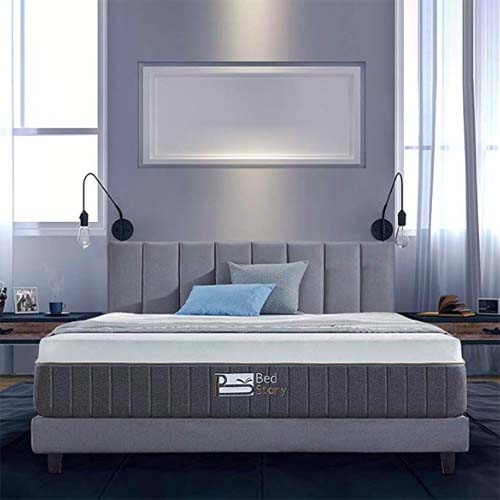 This top-rated bamboo mattress with a layer of gel-infused memory foam is totally capable of providing you with genuinely refreshing sleep. It has a breathable construction and is very affordable.
The mattress has a 12-inch profile that includes three foam layers. The top layer is infused with a combo of bamboo charcoal and cooling gel, which makes this model much more breathable than many of its memory foam competitors. Plus, bamboo charcoal is known for its sorption properties, so this mattress won't accumulate moisture and develop mold inside the layers.
The middle layer of foam has a convoluted design that improves air circulation. Altogether, the layers result in a medium-firm feel with a good amount of cradling typical of memory foam.
The best thing about this bed is that it packs excellent value for money. You get high-quality materials and thoughtful construction that will offer you comfortable sleep for years to come.
The worst thing I could find about this bed is mediocre edge support, which might be a drawback for couples and single sleepers who tend to roll closer to the edge of the mattress in their sleep.
Check out the main pros and cons:
check out this mattress on amazon
Awesome Bamboo Queen Mattress
Lucid Plush Memory Foam Mattress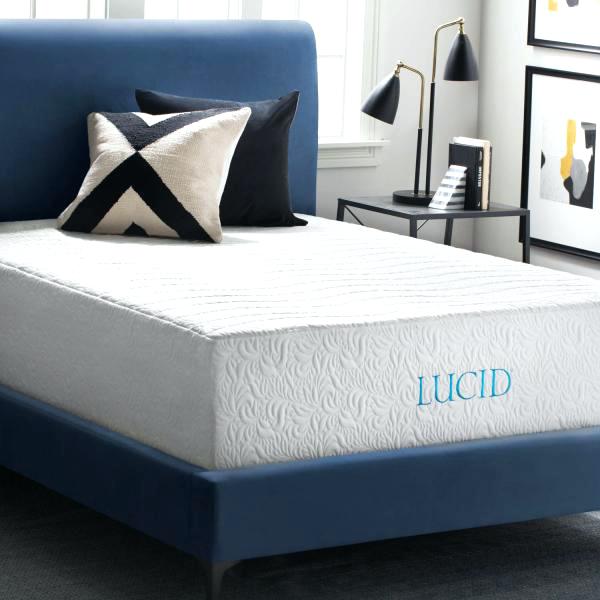 This is a great natural Queen mattress, which is suitable for all those users who appreciate the safety of the materials they sleep on.
Despite some minor flaws, this mattress definitely deserves your attention. If you are a back or stomach sleeper, I'm sure you will love it.
The top layer is infused with bamboo charcoal, which is great for breathability, temperature regulation, and the fresh feel of your mattress. This mattress is described as a plush model, but it actually has a rather solid feel with a decent amount of cradling.
The coolest thing about this model is its cooling properties. The combination of bamboo charcoal and gel layers makes this mattress perfect for people who hate sleeping hot.
The absolute worst thing is the deceiving description of this mattress. While being labeled "plush", it doesn't really feel that soft and provides a great deal of support.
Moving on to the pros and cons:
check out this mattress on amazon
Super Comfortable Bamboo King Mattress
Lucid Hybrid Bamboo and Aloe Vera Mattress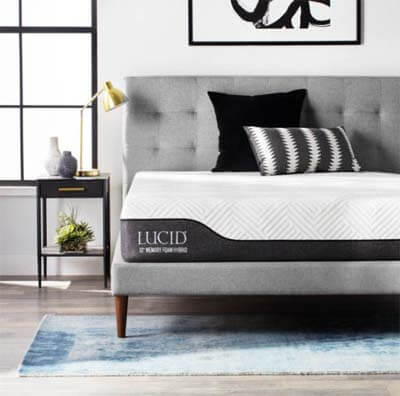 The first item on our list is the bamboo King size mattress you can find for the money. Lucid is affordable and features a very smart construction, which results in great comfort levels.
Lucid is definitely worth trying. It might not work for all sleeping positions, but it's still a very comfortable mattress with a whole lot of natural materials.
This is a hybrid mattress, which has both foam and encased coils. There is also an additional layer of edge support, which gives users a larger sleeping area. The top layer is memory foam, which is infused with bamboo charcoal and aloe vera for breathability and a fresher feel.
Now, the absolute best thing about this mattress is its pressure relieving properties. It has a medium plush feel, which makes it ideal for side sleepers and people who have issues with their joints.
The worst part is that this particular model is not suited for back, stomach, and heavier sleepers. It's simply not firm enough to provide proper support for those users.
Moving on to the pros and cons:
check out this mattress on amazon
High-rated Bamboo Pillow Top Mattress
Signature Sleep Pillow Top Mattress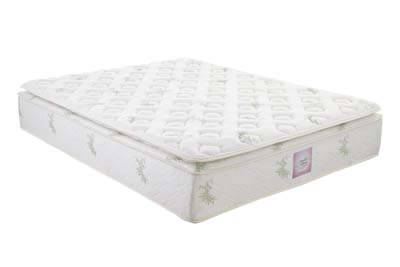 Guys at Signature Sleep know how to make comfortable beds. And this bamboo pillow top mattress is not an exception.
Overall, this is a great mattress. It does have some minor flaws, but the comfort it provides is more important, in my opinion.
Featuring a hybrid construction, this model combines individually encased coils, foam, and bamboo fabrics. This mattress has a plush feel, which makes it ideal for side sleepers. And the combination of coils and foam allows users to enjoy both support and contouring.
The coolest thing about this model is its construction. I feel like combining a coil system with a foam pillow top was a very wise idea. It provides just the right amount of firmness and padding.
The worst part about this mattress is its noisy coils. If you tend to shift a lot during the night, chances are the sound of the coils will disturb you.
Have a look at the following pros and cons:
check out this mattress on amazon
Furinno Angeland Luxury Memory Foam Mattress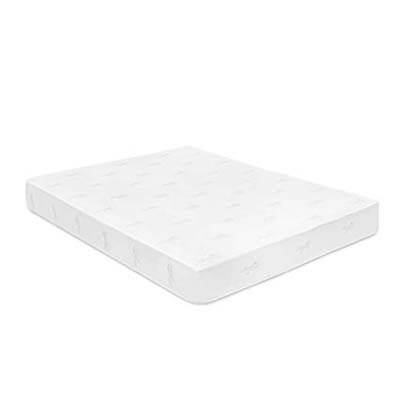 This bamboo mattress is the combination of everything you want: affordable price, pressure relief, support, and cooling properties.
This mattress is definitely worth your attention. It is heavenly plush and comfortable. Plus, it comes in different thickness options, so you can get a proper model for your specific needs.
It features two foam layers. The top one is infused with bamboo charcoal, which means this mattress does not sleep hot. There are different thickness models available, so you can get the one with your perfect amount of cushioning.
The coolest thing about this mattress is the pressure relief it provides. Its foam is squishy and cradling, which makes it perfect for your joints and pressure points.
The worst thing is the fact that it might be too soft for some users, especially back and stomach sleepers.
Moving on to the pros and cons:
check out this mattress on amazon
Best Affordable Bamboo Mattress
Comfort & Relax Memory Foam Mattress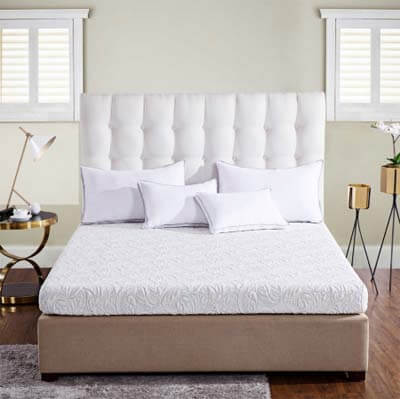 This top-rated bamboo mattress has a lot to offer for a very reasonable price. It is very comfy and features a breathable bamboo cover, which will help you get a refreshing sleep.
If you are looking for a super affordable bamboo mattress, this model might be perfect for you. It is comfy and has a nice construction.
This model has a medium-plush feel. It features three layers, each of which has a different density and structure. The AirCell technology is used in two top layers and provides some extra ventilation.
The coolest thing about this mattress is its balanced feel. It has just the right amount of firmness and cradling, which makes it ideal for all sleeping positions.
The worst thing about this bamboo memory foam mattress is the fact that it might be too stiff for lighter users (or people who are used to sleeping on cloud-like beds).
Let's look at the main pros and cons:
check out this mattress on amazon
Best Bamboo Memory Foam Mattress
Brentwood Home Cypress Mattress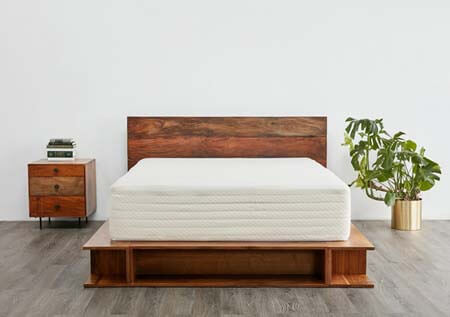 This model really deserves to be among the best bamboo memory foam mattresses. It offers a balanced feel and a high-quality construction, which so many of us will appreciate.
This affordable model has the potential to improve your sleep quality. I am sure that you are going to enjoy it, especially if you are a side sleeper.
This is a medium-firm mattress. It provides enough cradling and a decent amount of cushioning while remaining supportive. The top gel memory foam layer offers a mild cooling effect, which is great for people who hate to sleep hot.
Now, the absolute best thing about this model is its pressure relieving properties. All the layers work to support your body and remove the tension from the pressure points, allowing you to relax completely.
The worst part is its softness, which makes this mattress unsuitable for back and stomach sleepers, especially those who prefer firmer beds.
"What makes bamboo a great material for sleepwear and mattresses is its anti-bacterial, anti-microbial, and anti-fungal characteristics. This turns bamboo mattresses into the cleanest and safest beds."
Consider the following pros and cons:
check out this mattress on amazon
Factors We Look At
Trying to pick the best bamboo mattress requires a lot of time, testing, and an extensive research. The good news is, we can do it all for you. And we already know what aspects deserve our full attention, which helps us pick only the best models. These aspects include:
Construction

. The materials used, the layers, and their positioning – these factors directly influence the comfort a mattress may or may not offer you. Therefore, we always pay attention to the way a mattress is constructed and the layers used. We try to pick only the comfiest, the most balanced layer combos.

Overall comfort

. This is the most important factor, and we take it very seriously. We test our mattresses in different sleeping positions and by different sleepers. Additionally, we always study other users' reviews to see how good or bad each mattress is for separate sleepers.

Safety

. The materials used for your mattress have to be safe. You are going to sleep on them every night, so we make sure the mattresses we pick are safety tested and certified.

Ventilation and breathability

. This factor is important because it influences both the quality of your sleep and your well-being. You see, your skin needs proper breathability, even when you are lying on the mattress. This allows you to be more comfortable and your body to feel refreshed every morning.

Durability

. No one wants to invest in a new mattress and then start looking for the new one in a couple of months. A mattress absolutely has to be durable. Therefore, we always pick trusted, reliable models, which have the potential to serve you for years.

Warranty and trial

. When you get a mattress with a good warranty, you feel protected, in a way. Additionally, a good warranty shows that the manufacturer believes in their product's quality. As for the trial, it's a necessary bonus. It is great when you can test your new bed at home for a couple of nights/weeks to see whether it's really suited for you or not.

Value

. Sometimes you pay more for the brand name. Sometimes you pay for the eccentric design. However, we try to pick only the items with which you will pay for quality and comfort.
"What makes bamboo mattresses stand out among the competitors is their breathability. These beds just don't sleep hot. They are ideal for warm climates, hot summer nights, and simply for people who prefer to sleep cool all year long."
Benefits of Sleeping on Bamboo Beds
Bamboo is becoming more and more popular these days. There are bamboo clothes, underwear, accessories, furniture, and, of course, mattresses. But you may be wondering, "Do I really need to invest in bamboo products? What is so good about this material?" Let me tell you what makes bamboo special:
Bamboo fibers

are

soft and smooth

to the touch. It is said that bamboo viscose feels 10 times softer than cotton!
Bamboo is

hypoallergenic

. It's an ideal option for people who have sensitive noses or even asthma. It is safe even for small kids.

It is also

breathable

. Bamboo fabrics and materials are perfect for a healthy skin. They provide proper ventilation and help you preserve that pleasant fresh feeling.

It has great

moisture wicking

properties. This makes bamboo fabrics and clothes ideal for summer and hot climates. It wicks the moisture away, keeping your body temperature neutral and preventing you from feeling hot.

Bamboo is a

natural and safe

material. It doesn't require pesticides and other harmful chemicals to grow. Therefore, you get a safe, clean product, which is free of any traces of harmful substances.

It is

environmentally friendly

. Bamboo doesn't need water to grow (it requires minimum to no water at all). Additionally, it grows very fast. These factors make bamboo one of the most eco-friendly and sustainable sources. So, when buying bamboo products. you do good for the environment.

It is

dust mites and odor resistant

. Which means bamboo mattresses are naturally cleaner and safer for your health.
Types of Bamboo Mattresses
The first thing you should know is that there are no 100% bamboo mattresses. All modern models feature a combination of materials. They differ and vary depending on the brand, but here are the most common types of bamboo mattresses you can come across:
Memory foam with bamboo fibers

. Memory foam is the most popular mattress material, so it's not a surprise that the majority of

bamboo mattresses

have a foam base. Usually, such mattresses include a supportive foam layer, a transition memory foam layer, and a comfort top layer, which is typically a blend of foam and bamboo fibers. Such a combo makes this layer more breathable and adds the mattress a fresher feel.
Also Read: The 8 Best Memory Foam Mattresses for everybody in 2017-2018
Memory foam infused with bamboo charcoal

. Bamboo charcoal is basically burnt bamboo. This charcoal gets blended with foam. It is usually used in top layers of mattresses, providing, again, breathability and a cooling effect.

Bamboo covers

. This is the most affordable option. However, it doesn't mean that such mattresses are the worst. Sleeping on a mattress with a bamboo cover has many benefits, even when the rest of the mattress is foam, latex, or innerspring. Bamboo covers are soft and smooth. They also are breathable and odor-resistant. Plus, bamboo covers are natural, which can make any mattress a bit safer for its users.
Even though foam + bamboo is the most common and popular combo, latex and innerspring bamboo mattresses exist too. However, they are quite rare and uncommon on the modern market.
How to Properly Care for Your New Bamboo Mattress
So, you've picked your new bamboo mattress and you are ready to start using it.
But how are you going to take care of it?
Here are simple yet effective tips you should take into consideration, especially if you want your mattress to remain just as new for as long as possible:
Add a mattress protector

. A waterproof one is always a great option. It will keep your mattress dry and safe from accidental spills, body sweat, and other fluids. This will make the cleaning process much easier and will also prolong the life of your mattress.

Don't delay cleaning the spills

. If you don't have a mattress protector, you need to be very fast when it comes to occasional spills. It is important to clean them right away. Don't let the mattress material absorb the liquid, because it will be close to impossible to clean it then.

Give the mattress enough time

to decompress and air out upon arrival. In the majority of cases, mattresses are delivered vacuum sealed in a compact box. Before you start using your new mattress, let it decompress fully. Don't be in a hurry, because your new bed needs time to take its normal form. Some models take a couple of days, others might even require a week or so. The key here is to be patient, especially if you want to get the best possible performance.

Vacuum the mattress regularly

. Once a week is usually enough. This way, you will keep the mattress fresh and clean. You will rid it of the dust and some other small debris, which will give it a fresher feel every time.

Let some air in

. Airing your mattress is important if you want to keep it clean. When you are changing your sheets, leave the mattress "naked" in a well-ventilated room for a couple of hours. This is a very simple and easy step, which can prolong the life of your bed, indeed.

Don't jump on or fold the mattress

. This might damage its interior construction, which means your great new bed won't perform that well anymore.
Conclusion
There are so many good bamboo mattresses, and now you have plenty to pick from.
As for me, I was the most impressed by the Lucid Plush Memory Foam Mattress. It has that classic hugging feel with decent support and a bamboo charcoal top layer.
Have you already picked your favorite? Which one is it going to be? Let us know in the comments below!
Product links on Happysleepyhead are referral. We get a commission on purchases made through our links at no additional cost to you. More information in my disclosures.