Douglas Mattress Review
by | Last Updated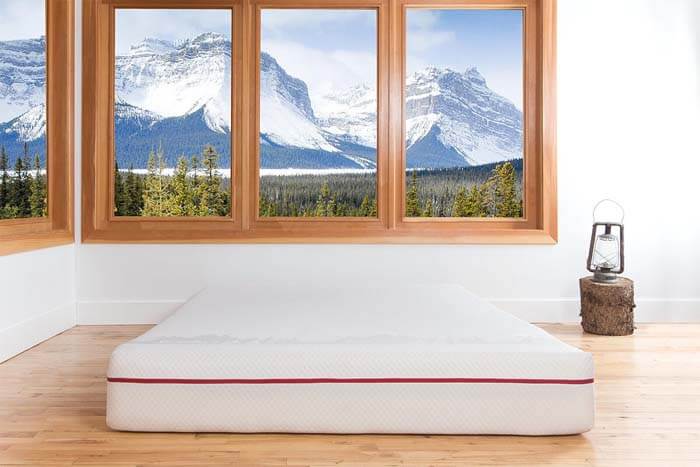 Proudly made in Canada, the Douglas mattress has all you need to get a sound sleep.
It can offer you good support and precise cradling. Besides, the Douglas is manufactured with an eco mission in mind.
Want to know a bit more about this guy?
Then let me share my Douglas mattress review, as it packs all you need to know about this mattress.
So, in the first section of my review of the Douglas mattress, we'll take a look inside the layers to define the overall impression and outline expectations.
The Douglas is an all-foam mattress that packs the following layers under the cover:
2" cooling gel foam comfort layer

. The brand uses its proprietary Luxury Ecolight foam, which has high density, so you won't drown in it. Also, the company claims that this foam is manufactured with a smaller carbon footprint, which is definitely a plus for those who are concerned about nature and wants something eco-friendly.

2" Elastex foam support layer

. This layer serves as a pad between the base and the gel foam comfort layer. It's pretty durable and bouncy, so it resembles the feel of a natural latex mattress to some extent.

6" foam base

. Finally, the base is made of a thick layer of high-density polyfoam. It ensures the entire construction is sturdy, promotes even distribution of weight, and isolates motion.
So, let's sum up:
The Douglas mattress has simple but effective construction and is made with environmental protection in mind. The overall thickness measures at 10 inches, which is perfect for an average weight couple or a single heavy sleeper but may be not enough for heavy couples.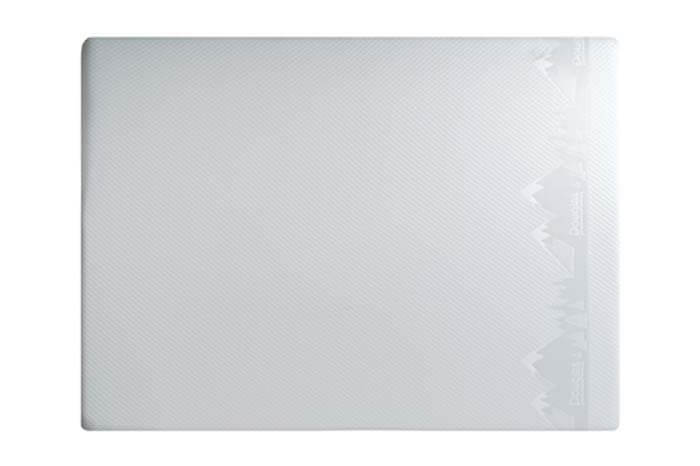 Now, let's talk about the cover and how it holds all of these layers together.
The brand states that the fabric is made from eucalyptus fibers. And actually, I felt the refreshing eucalyptus scent right after we tore the vacuum seal apart.
There's also a nice print of mountains across the bottom part where your feet would normally lie.
So, here are the benefits this fabric offers:
It feels cool

. The eucalyptus-derived fabric has excellent heat removal properties and works well at wicking away moisture. Thus, you will sleep cool and dry, even on hot summer nights.

It's durable

. The weaving of fibers creates a durable membrane that can withstand years of active exploitation without developing tears, lint, or other unpleasant things.

It's hypoallergenic

. Eucalyptus cellulose is absolutely neutral, so it won't irritate your skin or respiratory system if you're prone to allergies or infections.

It's eco-friendly

. This fabric is biodegradable and doesn't need a ton of pesticides and labor-intensive workforce, compared to cotton.
Want to know the best part?
The cover of the mattress is removable, and you can wash it in a washing machine.
However, I still advise you to purchase a mattress protector and use it since day one to avoid any accidents and keep your warranty valid.
Now, let's see how the Douglas performs based on what we've learned about the materials.
Firmness and How It Feels
So, the first functional thing I want to cover in this section of my Douglas mattress review is firmness. The mattress is currently available only in one firmness option — medium-firm.
This level of firmness mostly comes from the base and the Elastex foam layer. Speaking of the upper comfort layer, I believe that it has a bit more give. This gel foam layer contours your body closely and cradles your pressure points even when you sleep on your side.
It gets even better!
Despite the softer feel of the top layer, it doesn't make you sink and maintains proper alignment through the night.
Overall, I would rate the Douglass bed as 5-5.5 out of 10 on the universal firmness scale (with one being the softest and ten being the firmest).
"Note that for lighter or heavier sleepers than me, this mattress may feel a bit different. So, please make the most of the trial to determine if the Douglas has the right firmness for your needs."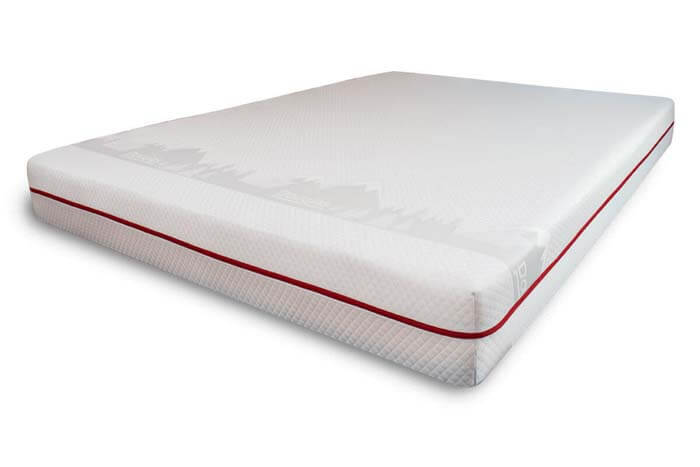 Edge support is essential for couples or sleepers who tend to roll to the edge of their bed in their sleep.
Unfortunately, edges aren't the strongest point of this mattress. You can expect some sinkage while sitting or lying close to the sides. It's a common issue for foam mattresses, though. Still, it performs better than many of the foam mattresses I have tested, and that may be due to the Elastex layer in the middle. This type of foam is more resilient and dense.
"If you want to compensate for mediocre edge support of this mattress, consider purchasing a bed frame with higher edges."
Let's move to the next point in my review.
Just like good edge support, proper motion absorption is important for people sleeping with a partner.
So, what can you expect from the Douglas in this regard?
Well, thanks to the soft foam upper layer, this mattress isolates motion caused by your partner's movements pretty well. However, you may still feel some disturbance if you're a very sensitive sleeper. Again, the bouncy Elastex layer is to blame.
In case you're not too sensitive, you will definitely love the Douglas bed, as it allows couples and active sleepers to get quality rest without any interruptions.
check out douglas mattress on douglasbed.ca
Now, let's talk about how the construction of the Douglas bed performs in terms of sinkage.
As I've already mentioned, the base layer of this mattress is made of polyfoam. This material is dense and bouncy, so it won't allow you to sink too deeply.
But there's always a but.
The amount of sinkage that this mattress will provide particularly to you depends on your weight:
Heavier sleepers put more load on the mattress. Speaking of the Douglass bed, it may feel too soft for them.
Average and lightweight sleepers will feel more comfortable on this mattress, as it is able to offer a balance between firm support and soft cradling.
Altogether, the gel-infused foam and Elastex foam have a comfortable medium-firm feel. Their total thickness is sufficient to give you a decent amount of sinkage and closely conform to your body without making you feel stuck.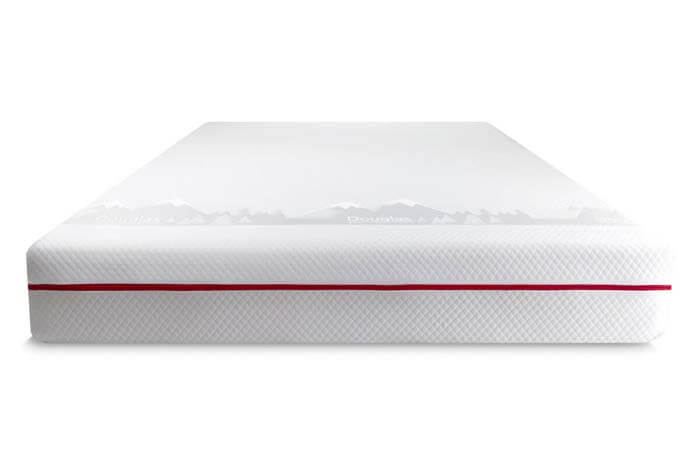 The next important point of my review is dedicated to odors.
And here's the thing:
Odors are typically present in all beds made of foam, as the manufacturing process involves using chemicals that may create smelly compounds.
This is especially an issue with beds-in-a-box because when you let them decompress, the air gets into the foam pores and pushes out particles that might have an odor, which may result in quite a sharp smell.
It's totally normal, and if independent organizations have certified the brand, you don't have to worry about the smell. It isn't linked to any harmful chemicals.
Now, what about the Douglas?
Well, the only odor I felt after opening the vacuum package was the eucalyptus scent. No wonder the manufacturer is so proud about their environmental commitment. For people with a sensitive nose, a mattress odor could be a deal-breaker, but the Douglas solves this issue exceptionally well.
Yet, the eucalyptus smell diminished very quickly, so when we were ready to sleep on our mattress, we barely felt any scent at all. Which is another great thing because, you know, you might find out you don't like how eucalyptus smells.
Experience in Different Sleeping Positions
Now, let's move to the most important part of this review. Below, you'll learn how the Douglass mattress performs in each of the three most common sleeping positions: on the back, side, and stomach.
But first let me warn you:
The perception of comfort may vary depending on your weight and some other factors. Heavy sleepers might feel more pressure when sleeping on the side because in this position some parts of the body experience deeper sinkage.
I'm an average mixed sleeper (6.4", 200 lbs, sleep on my back and side), and my wife is petite and sleeps on her stomach (5.3", 130 lbs).
So, to review the Douglas mattress, we have slept on it for five consecutive nights, and here are our conclusions:
Side sleeping

. For me, this is the most controversial position for this mattress. One night I felt completely relaxed and woke up well-rested, while the other night gave me a bit of soreness in the shoulder area. I believe that thanks to the medium firmness, this mattress can provide a decent hug for lightweight individuals who sleep on their side, whereas larger sleepers are likely to sink too deeply and therefore feel stiff.

Back sleeping

. Great. Just great. When you're sleeping on your back, your mattress just needs to maintain the neutral position of your spine. And the Douglas performs incredibly well here. You begin to feel how it contours your body and relaxes stiff areas as soon as you lie on it.

Stomach sleeping

. Now, a word to my wife. Overall, she liked sleeping on this mattress, even though it might feel a bit soft for an average stomach sleeper. If you prefer sleeping on your tummy, I would recommend you use a thin pillow under your hips so that you won't experience the strain in your lower back area.
As you can see, this medium-firm mattress may work for all sleeping positions, although not equally well. That's why before buying, you should consider your weight and personal preferences.
Something You Should Know
Now, I'd like to draw your attention to the company's environmental commitment. Douglas supports the environmentally friendly mission by:
Reducing carbon footprint

. The company uses a closed-loop manufacturing process to minimize waste and make the production of the mattresses less resourceful.

Using local materials

. The local factories provide all the materials used for making mattresses. This can help reduce the amount of transportation activity, which, again, impacts the carbon footprint and results in lower prices.

Offering used mattresses to charities and shelters

. If you found that the Douglas mattress doesn't meet your expectations, the company will give you a refund and donate the used mattress to a local shelter.
"Note that you should use your mattress for at least a month before you can file for a return."
The Good and the Bad: Overview
Let's sum up all the pros and cons of the Douglas mattress in one table below:
As you can see, even though the Douglas has some flaws, the number of advantages is much bigger. I think that this mattress can be an excellent choice for anyone who wants a durable product with good value for money.
| Size | Price |
| --- | --- |
| Twin | C$649 |
| Twin XL | C$679 |
| Full (Double) | C$729 |
| Queen | C$799 |
| King | C$899 |
| California King | C$899 |
Obviously, the Douglass bed falls into the medium-priced segment of the market. At the moment of writing this review, the company offers C$50 off every mattress. Such occasional discounts help you get even better value for money.
And for those who want to save even more, Douglas offers a financing option with 0% interest.
check out douglas mattress on douglasbed.ca
Shipping, Returns, and Guarantees
The Douglass is a bed in a box that can be shipped nationwide. The shipping is free for almost all regions; however, residents of some remote areas might be required to pay the shipping fee.
Typically, the company delivers mattresses straight from their warehouse, and this takes 1-2 days on average.
"If you order several mattresses, they may ship separately. The same applies to foundations and pillows."
Once your mattress has arrived, you must give it 30 days to adjust. It's okay if it feels firmer than you expected during the break-in period. Once this period is over, you have 90 days more to understand if the Douglas works for you. In case it doesn't, you can return it and get all your money back.
To initiate a return, you should send an email to the customer support center and discuss the details.
For those who decide to keep their Douglas bed, the manufacturer offers a 15-year full replacement warranty for any workmanship defects. For the first ten years, all repairs and replacements will be free for you. Starting from the 11th year of use, however, you will be required to pay 75% of the price of the original purchase.
Given the fact that an average foam mattress only lasts for 7-10 years, chances are that the paid replacement won't be the case.
Read Also: Best Mattresses In Canada: Top Picks, Recommendations, And Some Extra Tips And Tricks
Recommendations and Takeaways
It's time to sum up everything I've mentioned in my Douglas mattress review. So, here's who will benefit the most from sleeping on this bed:
Lightweight and average weight sleepers

. This mattress has a medium-firm feel and is able to support small and average sleepers without making them feel stuck.

Couples

. Average weight couples will definitely appreciate how great the Douglas is at motion absorption.

Fans of the softer feel

. I'm sure some of you just love the feeling of drowning in your bed and can browse the Web for hours to find a

perfect soft mattress

. If that's your case, chances are you will like the Douglass. It feels a bit softer on the surface than many other medium-firm mattresses I've tested, so it can offer you that nice foam feel you're looking for.

Eco-enthusiasts

. This bed is eco-friendly from top to bottom. The cover fabric is made of renewable materials, and the foams are manufactured with a reduced carbon footprint.
About the Company
Douglas launched in 2017 as a part of Novosbed Inc (today GoodMorning.com), which started in 2009 with another famous Canadian mattress brand Novosbed.
When launching Douglas, the founders had a mission to become the first mattress brand that focused solely on the Canadian audience. They cooperate with the best Canadian foam and fabric manufacturers and sell their products only online, which results in lower prices and nationwide availability.
Materials and Quality

Overall Support

Cradling

Edge Support

Motion Isolation

Cooling Properties

Warranty and Trial

Off-Gassing

Brand's Reputation

Value for Money
Product links on Happysleepyhead are referral. We get a commission on purchases made through our links at no additional cost to you. More information in my disclosures.