Tulo Mattress Review
by | Last Updated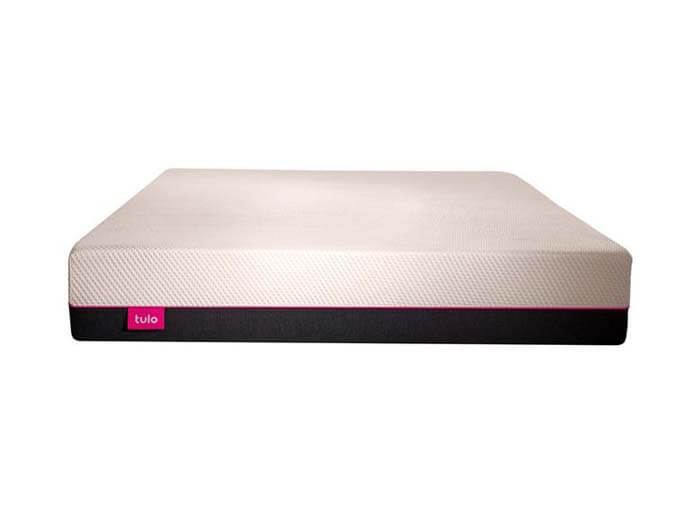 Tulo is a brand offering reasonably priced mattresses. Today, I would like you to meet the Tulo Comfort Series, which consists of three mattresses, each with a different firmness level.
'Tulo' literally means 'sleep' in the Chichewa language and precisely describes the goal of the Tulo mattress to deliver a heaven-like snooze to all of us.
I've prepared this Tulo mattress review so that you can familiarize yourself with the main features of this bed and decide whether it will become your sleep cradle.
So, let's see what it's got!
I will begin my Tulo mattress review with the peek inside the mattress layers because that's what defines how the mattress feels and performs.
So, I've ordered the Medium option from the Tulo Comfort Series, and here's what it packs under the cover:
The top layer

is made from 2 inches of ventilated foam. The open-cell structure allows this type of foam to trap less of your body heat while you sleep, thus keeping you cool. Also, this layer is infused with titanium particles that have high thermal conductivity, so it can dissipate heat even faster compared to standard gel foams.

The second layer

of the mattress is 1.5 inches of convoluted foam. This layer is here for several purposes. First, it enhances the cooling properties of the upper foam layer. Second, it promotes the airflow inside the mattress, so it doesn't accumulate heat and moisture.

The third layer

is a transitional link between the comfort layers and the mattress base. It's made from 2 inches of responsive foam with strut reinforcement. This type of foam holds the construction of the mattress together and promotes uniform weight distribution.

And, finally,

the mattress base

is made of 4.5 inches of supportive polyurethane foam. The foundation provides you with excellent shock absorption and makes the overall construction sturdy.
So, as you can see, the Tulo is an all-foam bed. My impression from the construction is quite positive, and I believe that this mattress should perform well in all the tests I will conduct on it further.
"Along with Medium option, the Tulo Comfort Series is available in Soft and Firm. The construction is pretty much the same here, except for the base layer, which has a softer or firmer feel, respectively."
Now, let's take a look at the cover, as it's another strong side of the Tulo Mattress. The manufacturer uses a knit cover made of a polyester and Tencel blend, and I should say it feels pretty soft to the touch.
Here are the main advantages of this fabric:
it feels and sleeps cool;

it doesn't generate static electricity;

it's hypoallergenic;

it's breathable, so you won't sweat during sleep;

and finally, it's pretty durable.
With all of that being said, I still highly recommend that you invest in a mattress protector so that you won't be worrying about occasional spills and stains on your mattress. Any damage will void your warranty, remember?
Firmness and How It Feels
And we're moving further.
As I've already mentioned, the Tulo Comfort Series offers you to choose between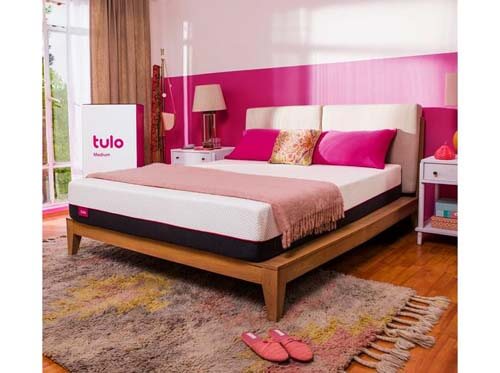 Soft, Medium, and Firm options.
I will provide my opinion based on the Medium option I've purchased.
I believe that this bed tends to skew a little towards the firmer side of the scale. We use the standard mattress scale where we can rank the mattress from 1 to 10 points, with one referring to the softest and 10 referring to the firmest feel.
So, I would rate the Tulo Medium as 5.5-6 out of 10, which is considered medium-firm. Note that since it's a fresh-from-the-box mattress, the feel might become a bit softer after the break-in period.
The manufacturer states that Medium firmness will work great for stomach sleepers, and I do agree with this statement. My wife is a stomach sleeper, and she loved sleeping on the Tulo mattress throughout the testing period. I am a side sleeper, and I was comfortable enough to fall asleep. But I believe the Soft option may suit side and mixed sleepers more, while the Firm Tulo mattress would perform great for those who love snoozing on their back.
"Note that the perception of firmness may vary depending on your body weight. Typically, heavier sleepers might feel more comfortable on firmer beds, because they don't allow too much sinkage. Lightweight sleepers, on the other hand, may need a softer mattress, which won't resist the load from their body."
The next point in my review of the Tulo mattress is edge support. It defines how well a bed would hold your weight when you're lying close to the edge. If the edge support is poor, you might even roll out of the bed during sleep.
Speaking of the Tulo, it's edge support is average as with any all-foam bed. Note that the base of the mattress is made from high-density polyurethane foam, but there's no reinforcement around the perimeter. So, if you love to sleep closer to the edge or share a bed with a partner, you may not feel well supported.
"If you need something with stronger edge support, choose one of these hybrid beds with reinforced edges."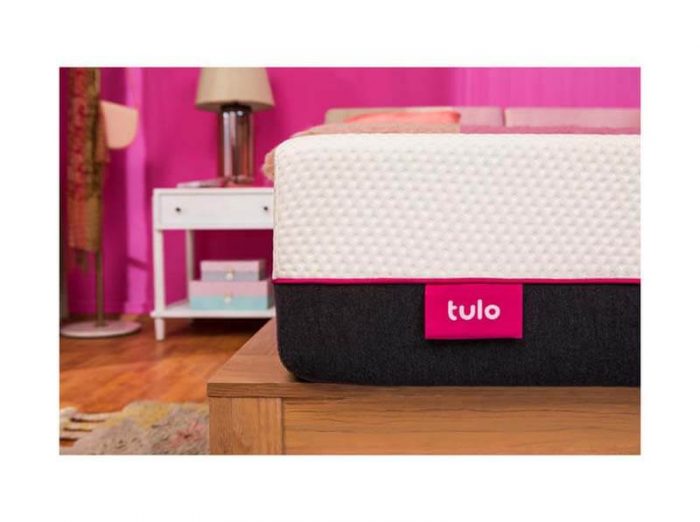 Unlike edge support, motion absorption is one of the most prominent features of all-foam beds, and the Tulo is no exception. Its layers absorb movements pretty well, so I can recommend it as the right mattress for couples, especially those with different working schedules or different sleeping styles.
I've also conducted some standard motion transfer tests, such as rolling on the mattress surface next to a glass of water. The ripples on the water surface were very light, which indicates low motion transfer between the layers.
check out tulo mattress on tulo.com
The next series of tests I've conducted on the Tulo mattress was aimed at determining how much sinkage it offers. Sinkage defines how well your mattress will cradle you and whether it will be able to relieve your pressure points.
So, here's my standard kit to measure the sinkage:
9 lbs medicine ball;

25 lbs kettlebell;

50 lbs medicine ball;

100 lbs medicine ball.
I put my equipment around the mattress surface and then measured indentations that they've created. Here are the results:
9 lbs ball: 1.75" of sinkage;

25 lbs kettlebell: 3.5" of sinkage;

50 lbs ball: 5" of sinkage;

100 lbs ball: 7.5" of sinkage.
Because this mattress doesn't have coils, I can say that it offers you an average amount of sinkage, which is typical for a medium mattress. The 100-lbs ball, though, produced a bit more sinkage than expected, which supports my statement that heavier users need to choose a firmer mattress.
The next stop in my Tulo mattress review will be particularly helpful for individuals with a sensitive nose.
Yes, I will cover smells and off-gassing in this section.
But first, a little disclaimer for you:
The production process of different foams used in mattresses usually involves a lot of chemicals. These chemicals will react with each other and may produce smelly byproducts. Or, they may have their own odor initially.
The bottom line is that if you purchase an all-foam bed — especially if it's a compressed mattress in a box — chances are it will have an odor. Depending on the compounds used for making foams, the smell may be more pronounced or almost unnoticeable, and it may take a few hours or a few days for it to disappear.
Speaking of the Tulo mattress, it does have a slight odor that appears the moment after you unwrap the plastic case. However, as the mattress sucks air in, the odor diminishes and become less pronounced. I was able to sleep on this mattress the night after I purchased it and didn't have any problems with its smell.
Experience in Different Sleeping Positions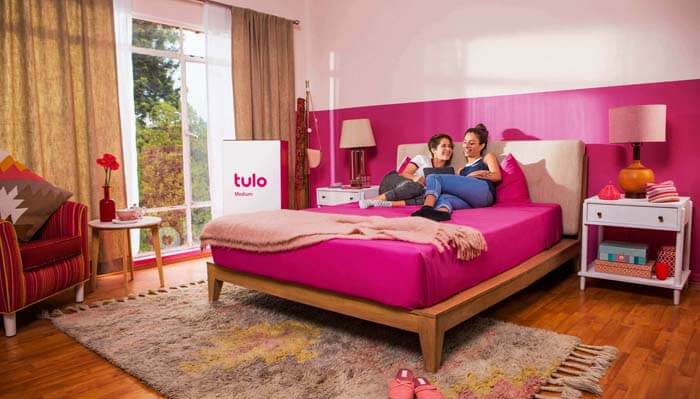 Now, here comes the most exciting part of any review (for me, at least).
I will briefly explain to you how well the mattress performs for different sleeping positions.
Keep in mind that I was testing the Medium option. And note that I'm a side sleeper, and my wife is a stomach sleeper.
So, here are the results of five nights of testing:
Back sleeping

. When you sleep on the back, you've already taken the best position for your vertebrae, so you only need a mattress that will maintain it properly. The Tulo performed surprisingly well in this regard. It provided enough sinkage and distributed our weight evenly. But I suppose that's because it was new, and new mattresses tend to feel firmer at the beginning. As it adjusts to the temperature inside your room and to your body, it might (or might not) become a little uncomfortable for back sleeping. Which is why, again, I recommend purchasing a firmer option for back sleepers.

Stomach sleeping

. Stomach sleepers typically have the weakest points in their cervical and lower back region, so their mattress should provide precise contouring in these areas and keep them even. For the sake of this review, I spent one night sleeping on the stomach so I could compare my report with my wife's impressions. While she enjoyed sleeping on the Medium Tulo mattress, I would have been feeling better sleeping on a bit firmer surface. The reason might be our weight difference, as I weigh 200 lbs and my wife weighs only 130 lbs.

Side sleeping

. Now, although the mattress has two foam comfort layers with a total thickness of 3.5 inches, I believe that for petite side sleepers, this model might feel too firm. I did enjoy sleeping on my side, as the mattress gently cradled every inch of my body, but again, I weigh 200 lbs. If you're lighter than me, consider purchasing the softer option of the Tulo COmfort Series.
If you still have hesitations as to which firmness level will suit your sleeping style, choose the medium firm one, try it for a month or two, and in case it doesn't work for you, you can always return it and get a firmer or softer option as a replacement.
Something You Should Know
Now, the Tulo mattress isn't limited only to Comfort series.
Along with three models in this series, the company also has the Tulo Liv mattress, which is basically a more budget all-foam option. The Tulo Liv is available only in medium firmness option, so keep that in mind before purchasing.
Also, the company can help you arrange a full-fledged sleeping spot in no time. They sometimes offer appealing discounts on the whole bedroom kit that consists of a mattress of your choice, a pillow, and a sturdy metal foundation. Most discounts are tied to different holidays.
Another useful thing to know is that you can actually see, touch, and lie on a Tulo mattress at any Mattress Firm store. Just choose one of the multiple locations across the USA and come to test your future mattress personally.
The Good and the Bad: Overview
Nothing is perfect, and the Tulo mattress isn't an exception. Below, I listed the main strong and weak sides of this mattress based on my experience.
| Size | Soft | Medium | Firm |
| --- | --- | --- | --- |
| Twin | $499 | $499 | $499 |
| Twin XL | $599 | $599 | $599 |
| Full | $649 | $649 | $649 |
| Queen | $699 | $699 | $699 |
| King | $899 | $899 | $899 |
| Cal King | $899 | $899 | $899 |
As you can see, the Tulo mattress has excellent value for money, no matter which size you choose.
However, if you have a strict budget or cannot spend this amount of money as a one-time payment, the Tulo can offer you a financing option with the duration of up to 24 monthly payments.
And it gets even better:
You won't have to pay any interest because the commission is 0%!
"The brand loves to spoil its customers with discounts and sales, so you can subscribe to its newsletter to brush a few bucks off the price tag."
check out tulo mattress on tulo.com
Shipping, Returns, and Warranty
Tulo delivers its mattresses vacuum-sealed in a box.
And because they think you deserve the best, they offer free Red Carpet delivery.
Yes, this looks exactly as it sounds.
On the agreed day and time of your delivery, the Tulo staff will come into your house, roll off a red carpet (so that your floor remains clean), and install your mattress where it should be.
Then, they will take all the packaging and other debris left after the installation and haul it away. They can even help you dispose of your old mattress for free.
If the Red Carpet delivery is available in your area, I recommend trying it out; it's a very uplifting experience.
Now, if you happen to not like your Tulo bed, you can use a hassle-free return policy for the first 120 days of use. However, the manufacturer requires you to sleep on your mattress for at least 30 nights, which is called a 'break-in period'. It gives you and your mattress some time to adjust to each other.
The Tulo warranty will protect you for ten years against all manufacturing defects. I should say this is more than enough for a mattress of this level.
Recommendations and Takeaways
Whew, that was a lot of info.
Let's recap the main things from this Tulo mattress review so that you could decide whether this mattress is suitable for you.
According to my experience, this bed will work best for:
Active sleepers and couples

. Excellent motion absorption is one of the strongest points of this mattress. If you share a bed with an active sleeper or allow your pets to snooze with you, this bed will make an excellent investment into quality sleep.

Pain sufferers

. Thanks to the all-foam construction, the Tulo can ensure precise contouring and relieve your tension areas.

Those who are looking for a mattress with great value for money

. The Queen size will cost you less than 700 bucks, and those who want more space can go for the King or Cal King size for just $900.

Combination sleepers

. I officially approve the Tulo as a mattress for combo sleeping. It offers a decent hug and moderate sinkage, so you can feel comfortable and supported in different sleeping positions.
About the Company
Tulo launched in 2017 as an internal startup of Mattress Firm Corp, which is a well-known player in the mattress industry.
Today, the company operates nearly 3,000 physical stores and sells its mattresses nationwide. So, if you prefer trying a bed out personally before purchasing it, you can check the Tulo out at any Mattress Firm store.
The customer service of the company is off the charts. I enjoyed communicating with the staff through the chat window on their website, but the company is also available via phone: 1-833-885-6233 and e-mail: [email protected]
Materials and Quality

Overall Support

Cradling

Edge Support

Motion Isolation

Cooling Properties

Warranty and Trial

Off-Gassing

Brand's Reputation

Value for Money
Product links on Happysleepyhead are referral. We get a commission on purchases made through our links at no additional cost to you. More information in my disclosures.