Best Mattresses for Platform Beds — Ultimate Guide and Reviews
by | Last Updated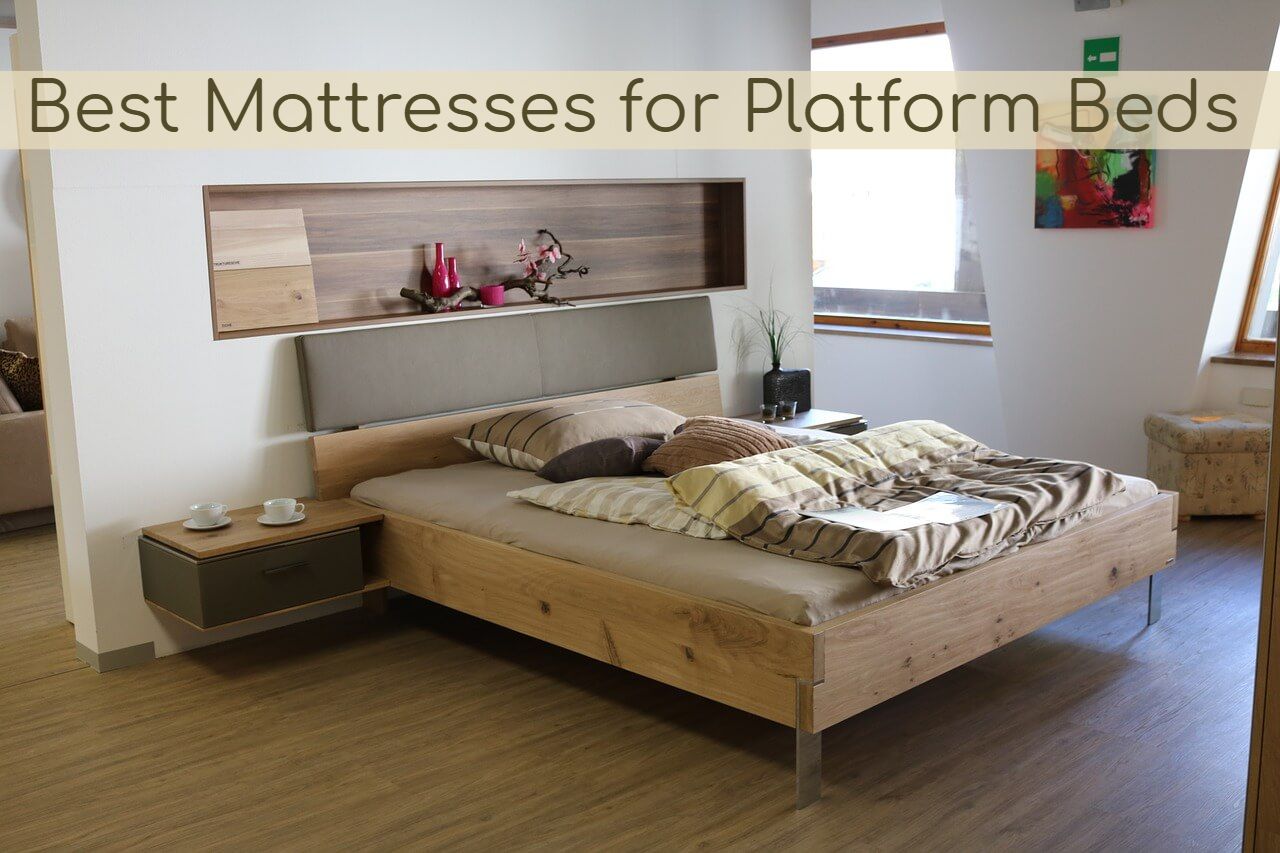 A platform bed is one of the latest solutions in the furniture world. It is easy to assemble, fits in any interior and gives your room that sleek modern look.
If you're considering to buy one, you may be wondering if you can pair it with your old mattress.
The short answer is:
Of course, you can do anything that makes you happy.
However, if you're going to upgrade your bed frame, why not proceed with upgrading a mattress? Here are my detailed reviews of 5 best mattresses for platform beds to help you choose the one that will satisfy your every demand.
Model
Type
Layers
Trial & Warranty
Rating
Alexander Signature by Nest Bedding
Memory foam
organic cotton cover quilted with foam;
copper-infused gel memory foam;
Energex foam;
dense transitional foam;
high-density foam base;
organic cotton cover quilted with foam.
100-night sleep trial,
lifetime warranty
Dreamcloud
Hybrid
cashmere cover fabric;
gel-infused memory foam;
quilted memory foam;
natural latex;
plush memory foam;
super dense memory foam;
foam-encased pocketed micro coils;
high-density memory foam base.
365-day trial,
lifetime warranty
Helix Dual Extra Mattress
Hybrid
two-touch cover;
latex-like resilient foam;
polyfoam transitional layer;
individually wrapped coils;
dense foam base.
100-night sleep trial,
10-year warranty
Winkbeds
Hybrid
Tencel cover;
gel-infused foam layer;
natural latex comfort layer;
pocketed coils layer;
high-density foam base.
120-night trial,
lifetime warranty
Nolah Original
Memory foam
viscose cover;
cooling AirFoam;
high-resilience foam;
high-density foam base.
120-night trial,
15-year warranty
Our Reviews of 5 Best Mattresses for Platform Beds
Best Firm Mattress for Platform Beds
Alexander Signature by Nest Bedding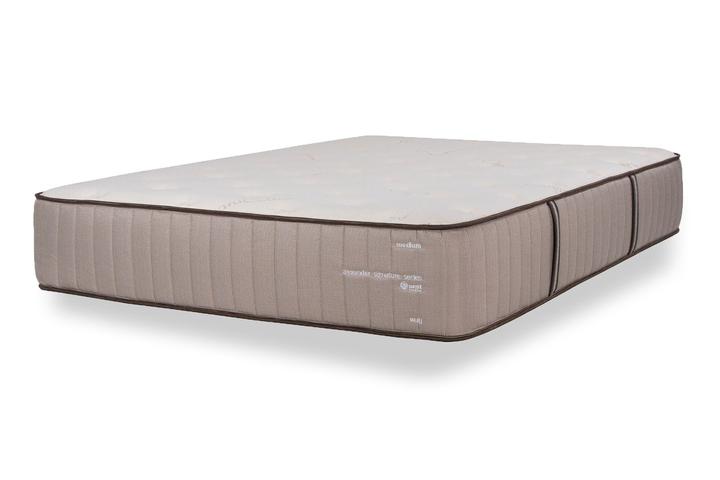 I included the Alexander Signature by Nest Bedding in my list of top-rated mattresses for platform beds because it offers luxurious comfort and excellent support for a very reasonable price.
I was testing the flippable model, with Medium and Firm sides, and I loved it for it helps you determine the preferable firmness and basically save your money as you buy two mattresses in one.
Now, the firm side of the Alexander Signature doesn't feel like a rock, so I believe this bed should be great for back or stomach sleepers and heavy users. But if you're a side sleeper or a lightweight person, just flip it to the side with medium firmness.
The biggest flaw of this mattress that being designed as flippable, it's pretty heavy, so it might be hard to flip it over and move around by oneself.
The ability to maintain spine alignment and uniform firmness is the strongest point of this mattress. This bed will be great for those who are struggling with back pain or prefer to sleep on their back and stomach.
Overall, this model is a great choice for those who are not sure of their firmness preferences yet. It can satisfy the needs of both fans of some plushness and those who appreciate firm support.
CHECK OUT ALEXANDER SIGNATURE ON NESTBEDDING.COM
Thickest Mattress for Platform Beds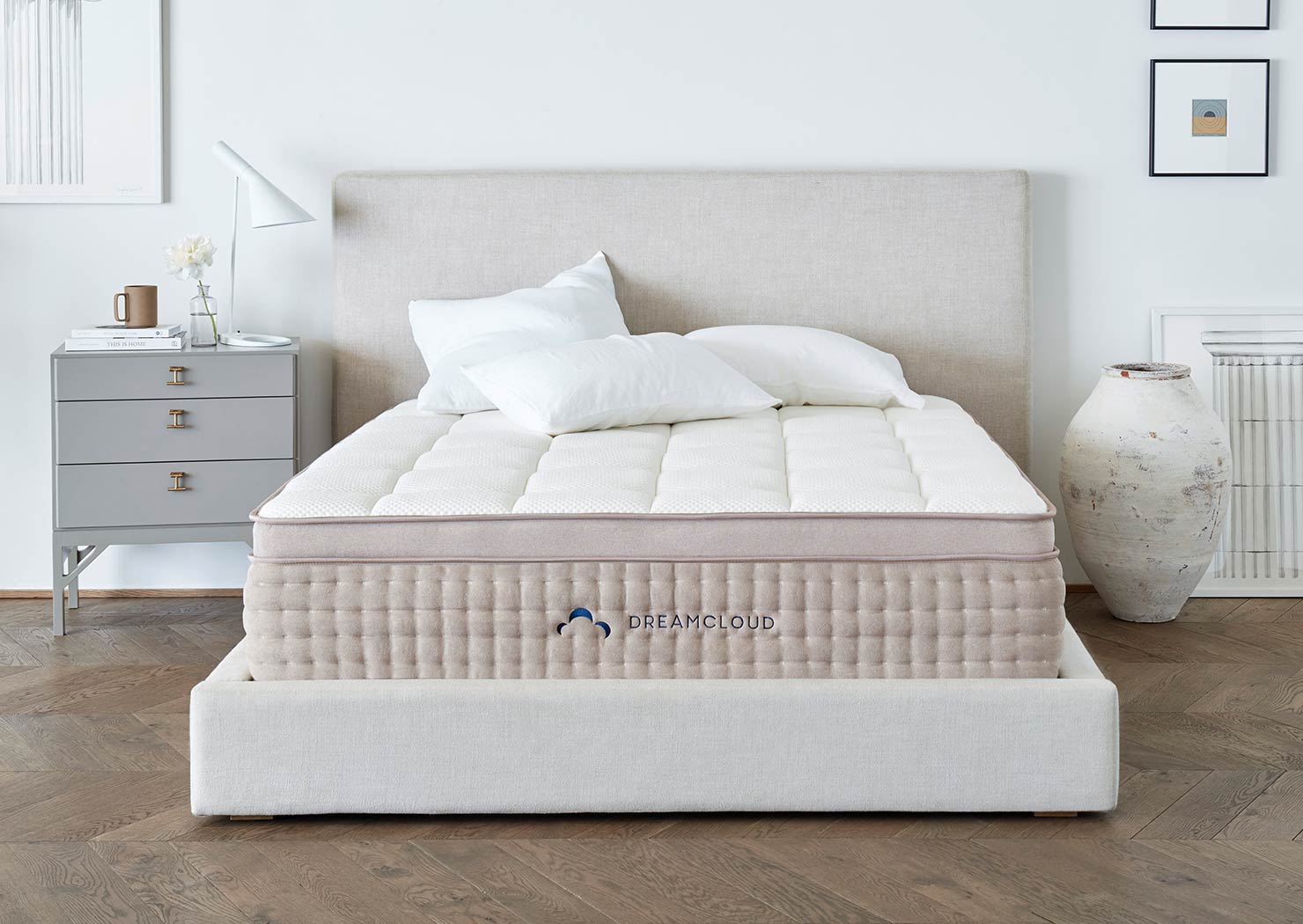 The second contestant on my list of the best mattresses for platform beds is the Dreamcloud. This hybrid bed, as the name implies, offers you cloudy comfort during sleep thanks to eight (!) layers of high-grade materials.
True fans of cushioning will love this bed. It has a quilted cashmere cover with foam padding and several layers of soft and dense memory foam for a really nice plush feel. Despite the cushiony top, the overall mattress feel is medium-firm.
Now, this is the thickest mattress for a platform bed you may find on the market. It has a breathable hybrid construction, which apart from the foam layers, includes a coil base and a layer of natural latex. They both promote airflow between the layers and cool you down during the night.
This mattress has only one thing I didn't really like: although its surface feels plush to the touch, it may not be suitable for side sleepers, especially for the lightweight ones. They may lack cradling in the shoulder and hips area and even woke up with numb hands and stiffness in the back.
The greatest thing about this bed is that it's pretty thick, so you won't feel the wooden slats of a platform bed even if you're a large person or have another sleeper by your side.
So, if you're looking for a high-end bed that can offer you a high-end sleep at a reasonable price, grab this mattress, and you'll be happy.
Check out this pillow on amazon
Dual-Sided Mattress for Platform Beds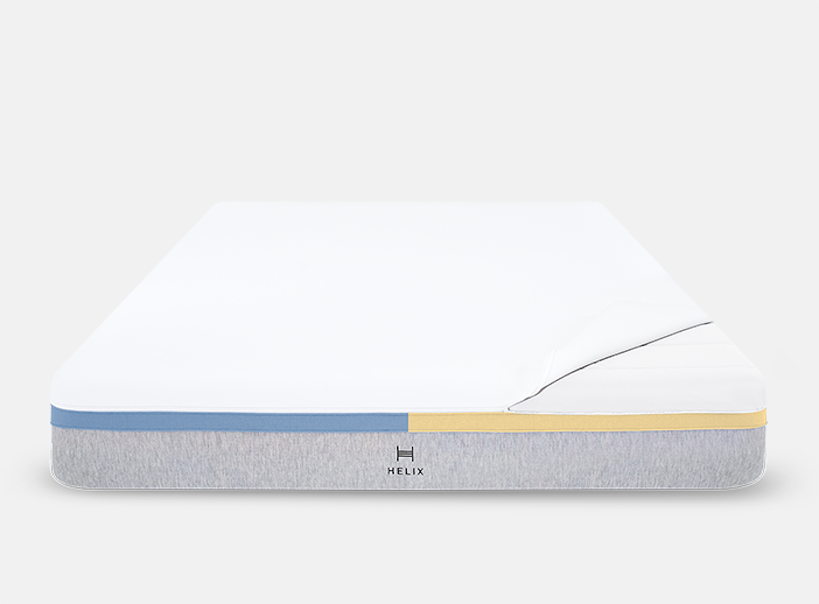 The Helix Dual Extra mattress deserves to be on the list of top-rated mattresses for platform beds for a bunch of reasons, with the main one being its dual-sided design. It's a great choice for couples who have completely different preferences.
The mattress construction is balanced at both sides, so expect some foam contouring and a bit of innerspring bounce. The soft side feels really plush and allows good sinkage. I believe that it would be great for side sleepers and back pain sufferers. The firm side is more bouncy and doesn't let you sink in too deeply.
The mattress sleeps really cool. One of the reasons for that is the use of two covers for increased airflow and breathability even on summer nights.
The biggest drawback of this bed is the smell. I found that all Helix mattresses tend to have a strong factory odor as they unfold after unpacking. If you're odor-sensitive, keep that in mind. And leave your new mattress for a couple of days to air out.
This mattress is dual-sided, and it's the biggest plus. For a reasonable price, you can satisfy both your partner's and your own needs.
Overall, this model can make a great mattress for platform beds. It's thick and durable and offers great comfort levels for different types of sleepers.
Check out helix dual extra on helixsleep.com
Best Hybrid Mattress for a Platform Bed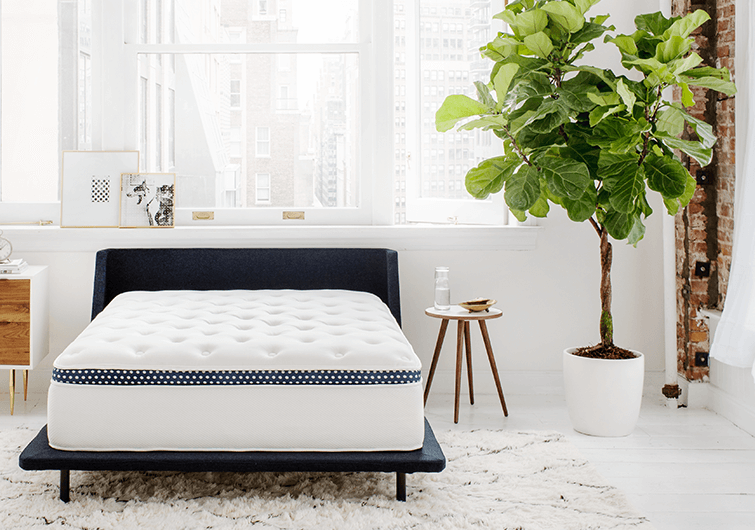 I've put the Winkbeds on my list of the best mattresses for platform beds because it's a hybrid model that works best for heavy sleepers. Its Firm Plus option offers enhanced lumbar support and pressure compensation, which is exactly what heavy sleepers need.
Now, this hybrid mattress for platform beds has outstanding back support overall. There's a pocketed coil system with five different zones for adaptive contouring. Thus, if you're a restless sleeper, you can expect comfort no matter which position you take in your sleep (given the initial firmness level works for you).
Another feature of the Winkbeds is that it does sleep cool. Starting with a breathable Tencel cover, through a layer of natural latex and down to the coils, the whole construction allows the air to circulate inside the mattress and dissipates excess heat.
The downside of this bed is a lack of motion isolation. The coils, along with a latex layer on top, result in a more responsive, bouncier feel. This might be an issue for light sleepers.
The most significant advantage of this mattress is that uniform and balanced support that only a hybrid bed can give. Back and combo sleepers will benefit from this the most, while side sleepers can opt for a softer firmness available in the line-up of Winkbeds.
If you're a fan of hybrid beds and want a more pronounced bounce, this mattress will become the right purchase for you. Just make sure to choose the right firmness option among the four available.
Check out winkbed mattress on winkbeds.com
Low-Profile Mattress for Platform Bed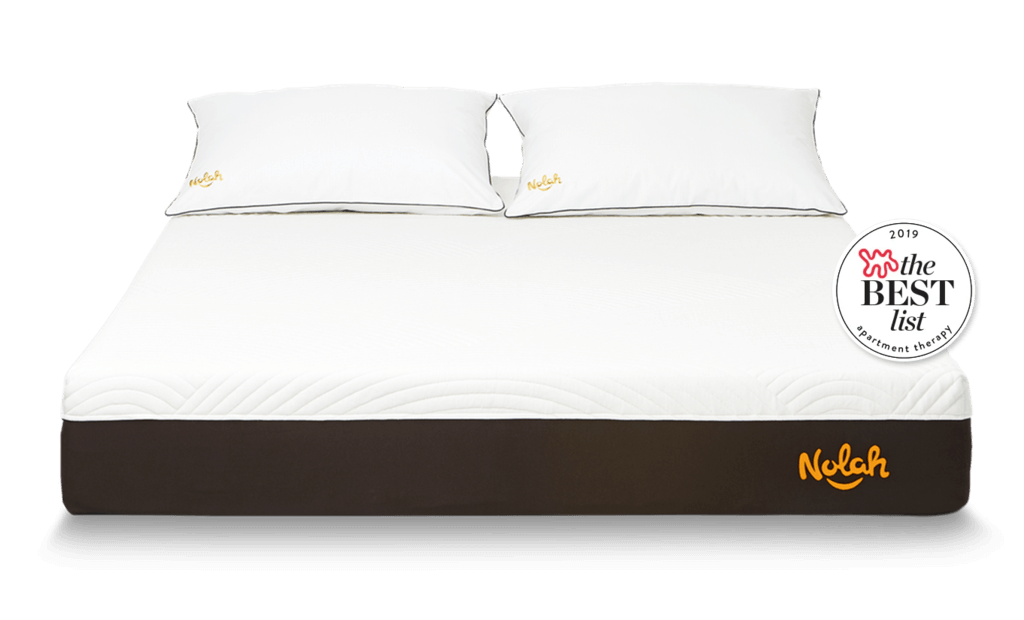 And one more model on my list of top-rated mattresses for platform beds is the Nolah Original. Fans of foam beds, as well as those who have chronic pain, will surely appreciate the thoughtful design of this mattress and its reasonable price.
The brand uses its signature AirFoam for cooling you down. In my opinion, it does its job pretty good, as I didn't sweat while sleeping on this bed. Although it's not memory foam, it offers a decent amount of cradling to hug your pressure points.
Right below the AirFoam, there's a layer of resilient foam that adds a tiny bit of bounce to the overall foam feel of this mattress. If you don't like feeling stuck in your bed, you will love this effect.
The one thing I don't like about this mattress is a lack of edge support. So, if you tend to roll close to the edge of the bed during sleep, you may sink too deeply or even roll off. I almost did.
Now, I love that the Nolah Original can be categorized as a low-profile mattress for a platform bed. It won't make your bed uncomfortably high when placed on slats, but at the same time, it's thick enough to provide you with comfortable sleep.
As I am a foam fan, I advise this bed to all people who share this preference. Also, if you need a softer feel and cradling, this bed might be your choice.
Check out nolah original on nolahmattress.com
What Is a Platform Bed and Why Do You Need It?
A platform bed is one of the modern box spring alternatives. Basically, it is a bed frame with wooden or metal slats to support your mattress.
Why it's so popular today, you may ask?
Well, platform beds can offer you a bunch of benefits that make it stand out from other types of mattress foundations on the market:
Uniform mattress support

. A platform bed enhances the supportive properties of any mattress you put on it. It serves as a base under the bottom layer, making your mattress sturdier.

Storage space

. Some bedrooms are pretty small and may lack a separate storage area. if that's your case, you'd be happy to know that certain models of platform beds come with a built-in drawer or shelves where you can put your bedding items or other things you need in your bedroom.

Affordability

. With a platform bed, you don't need to purchase a box spring and a separate bed frame. Actually, you can use these savings to buy a high-end mattress and enhance your sleeping experience.

Height

. If you compare a platform bed with a regular bed frame, you may notice that the former sits lower. Since you don't need to use a box spring or another foundation, you can opt for a thicker mattress and still have a bed of a comfortable height.

Health

. Some studies suggest that using a platform bed is healthier than using a box spring, because the latter is more likely to sag in the middle, given the active use. Thus, if you opt for the former, your lower back will receive the needed support and you won't wake up with a sore back.
Because platform beds have flat slats to support a mattress, the risks of damaging your mattress are lower than if you use a box spring.
How Much Weight Can a Platform Bed Hold?
Weight capacity of a platform bed varies from 450-500 lbs for as much as 4500 lbs. It depends on the materials that are used in the particular model you choose.
Obviously, metal slats will hold more weight than the wooden ones.
Consider the following factors to make sure you get a bed that will be able to support you properly:
materials and construction;

the weight of your mattress and bedding items;

your (and your partner's) body weight.
What About the Adjustable Base?
An adjustable base has specific controllers that allow lifting its upper or lower sections. This may come in handy for people who suffer from different types of pain or such sleep-related issues as obstructive sleep apnea or acid reflux.
Unfortunately, in most cases you can't use a platform bed with an adjustable base for a couple of reasons:
typically,

a platform bed isn't big enough

to accommodate the adjustable base;

most adjustable bases come with legs

that will require you to remove the slats in order to place the base inside, which can be a problem if the slats are not removable.
Still, it's possible to find a platform bed and an adjustable bed that will be compatible, but it might take thorough research.
How Different Types of Mattresses Are Compatible With a Platform Bed
Most of the mattress types on the market are compatible with any bed and any foundation. However, some might be more suited for platform beds in particular.
So, let's see how different mattresses perform with an average slatted platform bed.
Memory Foam
Memory foam mattresses are the most popular on the market.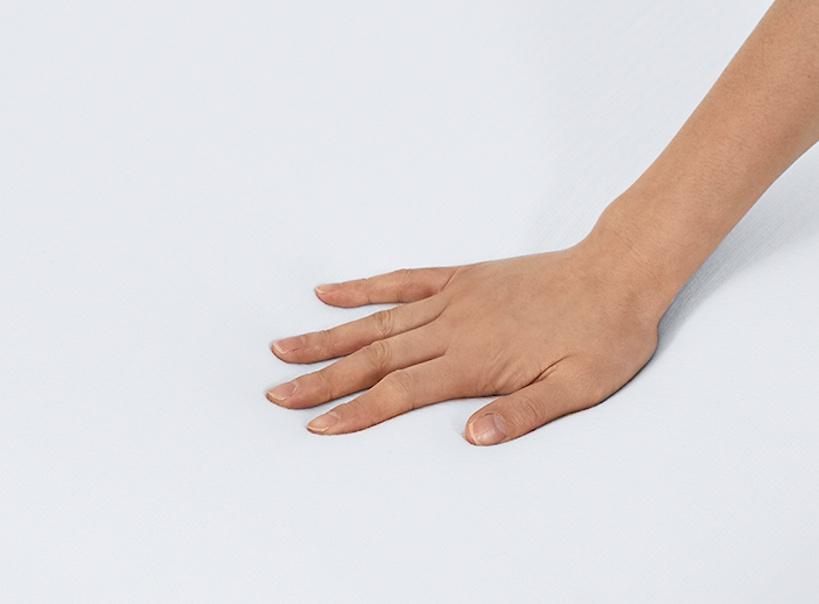 They are composed of foam layers with different density and structure. They go very well with any foundation, but a combo with a platform bed has several advantages:
Spaced slats work as additional breathable support

. Allowing the air to circulate in the space between the slats, a platform bed may eliminate the most common drawback of memory foam mattresses — sleeping hot.

Platform beds may prevent mold

. Memory foam tends to trap heat and moisture from your body, which may lead to mold inside your mattress. As mentioned above, a platform bed can make your bed more breathable, allowing the moisture to evaporate from the other side of the mattress.
Make sure that wooden slats on your platform bed don't have more than 3 inches of space between them. The bigger the spacing is, the more it can affect the mattress shape by making it sink in and sag in those areas.
Latex
Latex is made from the vulcanized sap of latex trees. It's a natural material that is immune to dust mites and mold. Besides that, latex mattresses are:
hypoallergenic;

initially fireproof;

naturally breathable.
Latex mattresses are pretty durable and work great with platform beds without feeling lumpy and uncomfortable.
Hybrid
Hybrid mattresses consist of a supportive coil system and layers of foam, latex, or other materials. You can find a thousand different combinations with different properties.
The most significant advantage of hybrid beds is their balanced feel and uniform support. Also, these mattresses typically are long-lasting and sleep cool.
Now, hybrid mattresses may work with platform beds pretty well. According to mattress reviews, such bed setup is very sturdy and durable. If you want to pair your hybrid mattress with a platform bed, make sure to choose a bed with higher weight capacity and durable materials, as hybrid mattresses are typically quite heavy.
Innerspring
Innerspring mattresses are a more traditional and inexpensive option. They have a solid coil block and a pillow top or a thin foam padding serving as a cushion.
I wouldn't recommend using an innerspring mattress with a platform bed because:
this may result in a much firmer overall feel;

some platform beds have bowed slats, which may make the mattress surface uneven and affect the supportive properties.
Overall, innerspring beds are designed to go better with box springs. That's pretty much all you need to know.
Waterbed
Waterbeds are hard to beat when it comes to the therapeutic effect of sleep. However, there might be issues if you want to use them with your platform bed.
For example, a hardside waterbed requires a special bed frame with side support. A typical platform bed can't offer that. But it may work with a softside waterbed. However, they're not very common and require a lot of care. So, if you don't want to fuss around your bed, switch to foam or latex options.
Futon
Futon mattresses are one of the cheapest options on the market and work great with guest sleeping spaces or sofas. Since they were primarily designed for sleeping on the floor, they aren't good with platform beds. Mostly because they are too thin. Even if an average weight sleeper uses one, he or she will probably be able to feel all the slats through the futon. Which will obviously result in a night of poor sleep.
Checklist for Choosing a Good Mattress for a Platform Bed
Of course, you are the one to decide what feels the most comfortable for you.
But I'd like to outline the features that define the best mattress for a platform bed with slats, to help you make a more informed decision.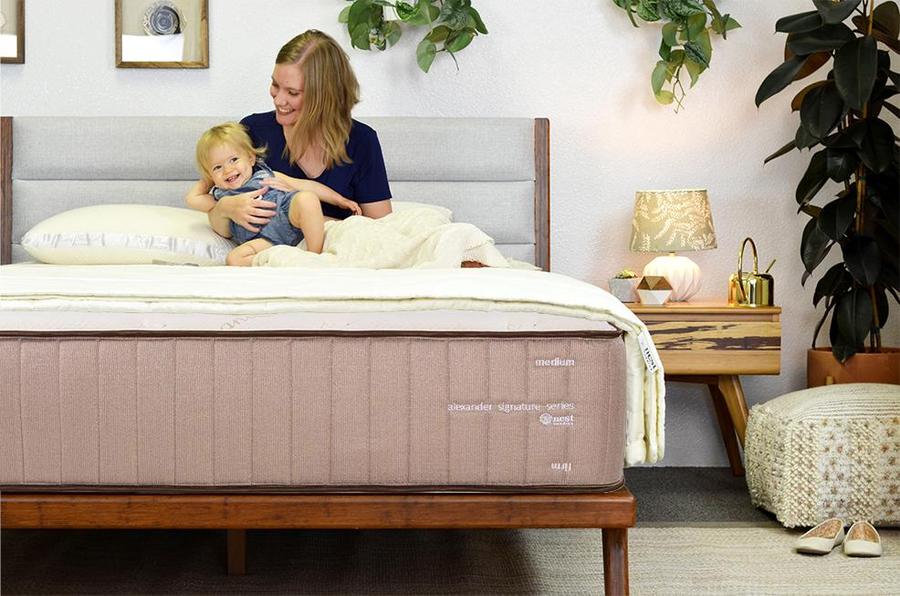 So, here's a quick checklist:
Durability.

A platform bed eliminates the need to use a box spring, and one of the purposes of a box spring is to reduce wear and tear. Thus, your new mattress needs to be more durable. Latex models work best in this case, but if you are tight on budget, switch to options with dense foam layers.

Comfort level

. Different mattresses provide different comfort levels, and it's a proven fact. But every bed should give you the right amount of sinkage to relieve pressure and muscle tension in any position you sleep in.

Firmness

. Firmness is subjective. However, the mattress that is on the softer side tends to sag more quickly if you have a platform bed with slats. So, it makes sense to opt for a medium-firm to firm option. Or, at least get a mattress with a durable bottom layer.

Temperature regulation

. Hot sleeping is an issue with many mattresses, and it's tied to many factors. The bed foundation might be one of them. Slatted platform beds allow the air to circulate under the mattress and thus can prevent you from overheating.

Weight

. Typically, hybrid and latex mattresses are heavier than others. So, you need to be sure that the model you choose won't exceed the weight limit of the platform bed when you put the mattress on it and lie down yourself.

Thickness

. The

best mattress thickness for a platform bed

is a matter of preferences. However, you will agree with me that if a heavy sleeper uses a mattress that's too thin, he or she will feel the slats and the mattress will become uncomfortable. So, I advise you to choose thicker options for your platform bed if you weigh more than 250 lbs.

Warranty

. Mattress warranties usually cover the workmanship and structural defects, but there's hardly a company that will offer you a replacement if you use a mattress with the wrong foundation. So, before you buy a mattress, check if the warranty coverage doesn't restrict the use of platform beds.
User reviews on Amazon and review sites can help you better understand if the particular mattress model will work with a platform bed. Unlike reviews on brands' websites, they're often unbiased and contain the actual photos.
Conclusion
Now that you know a little bit more about the mattresses that are suitable for platform beds, you can easily choose the best one for you.
And I am ready to announce my own favorite out of the five mattresses reviewed above.
The absolute winner is the Dreamcloud. I love the luxurious design and plush feel of this mattress. Also, instant pressure relief and contouring layers are the strong points of this bed.
A more affordable alternative is the Winkbeds. Its breathable construction and the versatility of firmness levels make this mattress a good fit for almost any sleeper.
Did you manage to find your favorite among these mattresses? What kind of platform bed are you planning to put it on? Feel free to share in the comments!
Product links on Happysleepyhead are referral. We get a commission on purchases made through our links at no additional cost to you. More information in my disclosures.